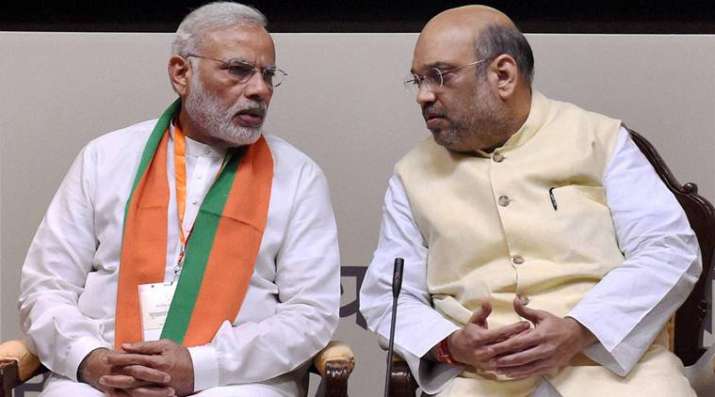 The Bharatiya Janata Party (BJP) on Wednesday suffered massive electoral defeat in Lok Sabha bypolls on three seats in two Hindi heartland states - Uttar Pradesh and Bihar.
According to the latest information, the Samajwadi Party candidates have snatched two crucial parliamentary constituencies  - Gorakhpur and Phulpur - from the BJP in Uttar Pradesh. In Bihar, the Rashtriya Janata Dal (RJD) managed to retain the Araria Lok Sabha seat vacated due to the death of its MP Taslimuddin.  
With the defeats in three Lok Sabha bypolls on Wednesday, the BJP has continued its unique record of losing all by-elections on Lok Sabha seats vacated after party's massive victory in 2014 general elections where it had won 282 seats. 
Let's have a look at the Lok Sabha by-elections happened since 2014 Lok Sabha where the 'Modi magic failed' and the BJP suffered defeat by opposition parties.
1. Medak (Sept, 2014)
TRS candidate Kotha Prabhakar Reddy trounced his nearest Congress rival and former Minister V. Sunitha Laxma Reddy by 3,61,277 votes. 
2. Mainpuri (Sept 2014)
​Samajwadi Party candidate Tej Pratap Singh won the Mainpuri Lok Sabha bypoll by a margin of more than 3.21 lakh votes. Tej Pratap, grand nephew of the SP supremo Mulayam Singh Yadav, defeated his nearest rival Prem Singh Shakya of BJP in the bypoll, which was necessitated after the resignation of Mulayam who also won from Azamgarh Lok Sabha seat.
3. Kandhmal (Oct, 2014)
​Biju Janata Dal (BJD) candidate Pratyusha Rajeswari Singh, widow of former MP Hemendra Chandra Singh, won the by-election for Kandhamal Lok Sabha seat in Odisha trouncing BJP's Rudramadhab Ray by a whopping 2,98,868 votes.
4. Warangal (Nov, 2015)
The Telangana Rashtra Samiti (TRS) retained the Warangal Lok Sabha constituency. TRS's Pasunuri Dayakar, a fine arts graduate, who was associated with the party since 2001, received 6,15,407 votes.
A bypoll in the Warangal reserved seat was necessitated after Srihari was inducted into the Telangana cabinet and the seat fell vacant.
5. Ratlam - Madhya Pradesh (November, 2015)
The BJP faced a humiliating defeat in Ratlam by-election in a high-stakes battle. The BJP's loss in Ratlam had captured the nation's attention after its defeat in Bihar Assembly Elections where the Nitish-Lalu combine had registered victory.
Congress' candidate Kantilal Bhuria defeated the BJP's candidate with a margin of over 88800 votes. The BJP had won Ratlam for the first time ever in 2014 Lok Sabha Elections.
6. Bangaon (West Bengal), 2015
The ruling Trinamool Congress' candidate Mamatabala Thakur won by a margin of over 2 lakh votes. While CPI(M)'s Debesh Das was second, the BJP's Subrata Thakur was relegated to the third place.
7. Coochbehar (West Benga), 2016 
The Trinamool Congress won the Coochbehar Lok Sabha seat with its candidate Parthapratim Roy drubbing his nearest rival Bharatiya Janata Party's (BJP) Hemchandra Burman by a margin of 4.9 lakh votes
8. Tamluk (West Bengal), 2016
TMC candidate Dibyendu Adhikari won Tamluk Lok Sabha seat by defeating his nearest CPI(M) rival Mandira Panda by 4.97 lakh votes.
9. Tura (Meghalaya), 2016 
National People's Party (NPP) candidate Conrad K Sangma, son of nine-time parliamentarian and former Lok Sabha Speaker Purno A Sangma, won the Tura Lok Sabha by-election by a huge margin of nearly two lakh votes to retain the seat held by his late father for over four decades. 
10. Amritsar (Punjab), 2017
Congress candidate Gurjit Singh Aujla won the Amritsar Lok Sabha seat with a huge margin of 1,99,189 votes over nearest rival Rajinder Mohan Singh Chhina of the BJP.
11. Srinagar (April, 2017)
National Conference (NC) chief Farooq Abdullah won the Srinagar Lok Sabha bypoll, defeating the ruling Peoples Democratic Party (PDP) candidate, Nazir Khan, by a margin of over 10,700 votes.
12. Malappuram (April, 2017)
The Indian Union Muslim League retained the Malappuram Lok Sabha constituency, with its candidate PK Kunhalikutty winning by over 1.7 lakh votes in the bypoll, defeating the ruling CPI(M)-led LDF nominee.
BJP candidate N Sreeprakash came third.
13. Gurdaspur - Punjab (Oct, 2017)
The rejuvenated Congress Party after winning Punjab Assembly Elections also reaffirmed its dominance in the state as its candidate Sunil Jakhar defeated BJP's Swaran Salaria by a margin of 193,000 votes in the Gurdaspur Lok Sabha bypoll.
The Congress' victory was significant because Gurdaspur seat was held by BJP and it fell vacant after the death of actor-turned-member of Parliament (MP) Vinod Khanna. 
14. Ajmer - Rajasthan (Feb, 2018)
In a major setback to the Vasundhara Raje Government in Rajasthan, the Congress defeated BJP in bypolls on two Lok sabha seats - Alwar and Ajmer - and increased the party's number from 46 to 48 in the Lower House of Parliament.
Congress' Raghu Sharma defeated BJP's Ram Swaroop Lamba by 84,414 votes and won the Ajmer Lok Sabha seat.
15. Alwar - Rajasthan (Feb, 2018)
Congress' Karan Singh Yadav won Alwar Lok Sabha seat by 1.97 lakh votes.
16. Uluberia - West Bengal (Feb, 2018)
Trinamool Congress' candidate Sajda Ahmed retained Uluberia Lok Sabha seat in West Bengal. She defeated BJP candidate Anupam Mallick by 4,74,023 votes. The BJP's candidate had got a total of 2,93,018 votes.
17. Phulpur - Uttar Pradesh (March, 2018)
SP's Nagendra Pratap Singh Patel wins Phulpur by 59,613 votes 
18. Gorakhpur - Uttar Pradesh (March, 2018)
In a dramatic turn of events, the Samajwadi Party (SP) snatched from the BJP the two Lok Sabha seats of Gorakhpur and Phulpur in Uttar Pradesh that had been vacated by Chief Minister Yogi Adityanath and his deputy Keshav Prasad Maurya.
Samajwadi Party candidate from Gorakhpur Praveen Nishad secured 334,463 votes, with the Bharatiya Janata Party's Upendra Dutt Shukla at the second spot with 308,593 votes. Samajwadi Party candidate Nagendra Patel from Phulpur bagged 271,752 votes and defeated BJP's Kaushlendra Singh Patel who received 233,254 votes.
19. Araria - Bihar (March, 2018)
The RJD managed to retain its seat as party candidate Sarfaraz Alam defeated BJP's Pradip Singh to win Araria Lok Sabha seat. 
However, Vadodara and Shahdol are the only seats where the BJP registered victory since 2014 elections.
1. Shahdol - Madhya Pradesh (Nov, 2016)
The BJP retained Shahdol Lok Sabha seat as its candidate Gyan Singh defeated Congress' Himadri Singh by a margin of 60,383 votes in the by-election. Gyan Singh received 4,81,398 votes while his Congress rival polled 4,21,015 votes.
2. Vadodara - Gujarat (Sept, 2014)
In September 2014, the BJP retained the prestigious Vadodara Lok Sabha seat in Gujarat vacated by Prime Minister Narendra Modi, with a huge margin of more than 3.29 lakh votes. BJP candidate Ranjanben Bhatt defeated Congress's nominee Narendra Rawat by a margin of 3,29,507 votes.
In 2014 Lok Sabha Polls, Narendra Modi had set a record margin by winning the Vadodara Lok Sabha seat by 5,70,128 votes against Congress's candidate Madhusudan Mistry. Modi had got 8,45,464 votes out of the total 11.63 lakhs votes polled in the seat in 2014.
3. Lakhimpur (Assam), 2016
BJP's Pradan Baruah defeated Congress' Dr. Hema Hari Prasanna Pegu comprehensively in the Lakhimpur Lok Sabha by-poll. While Baruah got over 5 lakh votes, Pegu garnered over 3.61 lakh votes.  
4. Beed, Maharashtra (Oct, 2014) 
Late BJP leader Gopinath Munde's daughter Pritam won Beed Lok Sabha by-lection defeating former Congress minister Ashok Patil by a whopping margin of around seven lakh votes.