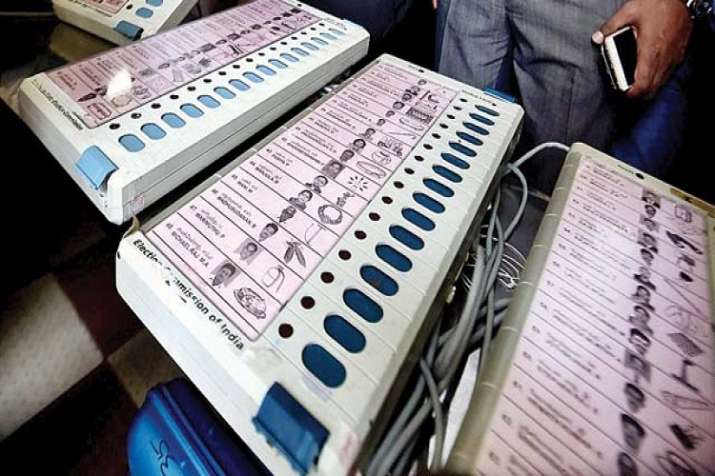 Polling in the Palghar and Bhandara-Gondia Lok Sabha bypolls in Maharashtra was marred by the reported malfunctioning of EVMs in some booths. 
Bharip Bahujan Mahasangh leader and former MP Prakash Ambedkar said around 450 Electronic Voting Machines EVMs malfunctioned. 
Besides, around 15,000 voters from Mali Ali, Mavanda, Navale and Nandanvan villages in Palghar's Vasai tehsil boycotted polling, citing lack of developmental works in their area. 
Bahujan Vikas Aghadi leader Hitendra Thakur claimed that "the entire election commission machinery is working on behalf of the BJP in Palghar." 
There were phone calls from the office of a local BJP functionary in Palghar to housing societies about making arrangements for snacks and refreshments for member-voters, Thakur said. 
Earlier, voting began at 7 am and there was no untoward incident at any polling booth so far, police said. 
Voting will conclude at 4 pm and the counting of votes will take place on May 31. 
Around 14 per cent polling was reported for the Bhandara-Gondia seat till 11 am. In Palghar, around seven per cent  electorate cast their votes till 9 am. 
In Palghar, the bypoll was necessitated following the death of sitting BJP MP Chintaman Wanaga. The BJP's bickering ally Shiv Sena has fielded the late MP's son, Srinivas Wanaga, in a bid to garner the sympathy vote. 
The BJP has put up former Congress minister Rajendra Gavit and the Bahujan Vikas Aghadi is also in the fray with the nomination of its ex-MP Baliram Jadhav. 
Kiran Raja Gahla of the CPI-M, which has a base in Talasari and Dahanu areas, and former MP Damu Shingada (Congress) are also contesting in a multi-cornered fight from the Palghar seat, reserved for Scheduled Tribes (ST). 
The Sena had earlier accused the BJP of distributing cash to voters. 
During a rally, Sena chief Uddhav Thackeray played an audio clip wherein Chief Minister
Devendra Fadnavis
purportedly exhorted the party cadre to win the elections "by all means possible." Fadnavis had said the audio recording was doctored. 
An editorial in the Sena mouthpiece 'Saamana' on Monday said its nominee will win the Palghar seat, despite the BJP 
In Bhandara-Gondia, the BJP and the NCP have locked horns in the bypoll, being held after the resignation of BJP MP Nana Patole.. 
Patole, a leader of the powerful OBC Kunbi community, had switched side from the Congress to the BJP and was elected  as an MP from the constituency, located in the Vidarbha region, in 2014 by defeating former Union minister and NCP heavyweight Praful Patel. The NCP, which has allied with the Congress, has fielded former BJP MLA Madhukar Kukde, against BJP's Hemant .
Patole, who belongs to the Powar community and is also a former legislator.