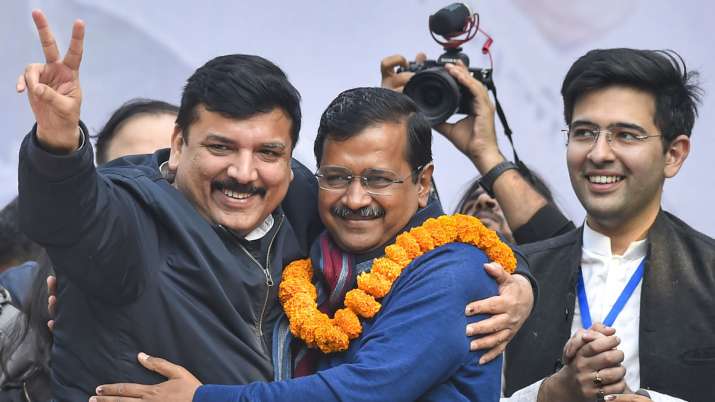 After securing a landslide victory in the Delhi assembly election, Aam Aadmi Party (AAP) chief Arvind Kejriwal staked claim to form the government Wednesday evening. Kejriwal wrote to Lieutenant Governor (LG) Anil Baijal listing out his MLAs. As per the process, it will now be sent to the Home Ministry. Kejriwal is set to take oath as the chief minister of Delhi on Sunday, February 16. He will be sworn-in at Ramlila Maidan in the national capital. The Kejriwal-led Aam Aadmi Party secured 63 of Delhi's 70 seats, leaving the Bharatiya Janata Party (BJP) with seven and decimating the Congress. 
The oath-taking ceremony at the Ramlila Maidan assumes significance as the venue saw a massive anti-corruption agitation with Arvind Kejriwal and Anna Hazare in 2011. He has taken oath as the chief minister twice from the same venue.
Lieutenant Governor Anil Baijal will administer the oath of office and secrecy to the ministers. Kejriwal had a 15-minute meeting with Baijal earlier in the day. 
While the oath-taking ceremony will be open to the public, the Aam Aadmi Party (AAP) was considering not inviting leaders and chief ministers of other parties as it did not wish to be seen as a "confrontationist" against the BJP-led Centre, the sources said. They, however, added that the party was yet to take a decision on it. The AAP has planned mobilisation of people for the mega event and all the newly-elected MLAs of the party have been asked to ensure huge participation from their constituencies.
Kejriwal likely to retain the old cabinet
Arvind Kejriwal's new cabinet is unlikely to have fresh faces as he is expected to retain all six incumbent ministers, top sources in the Aam Aadmi Party (AAP) said. Speculation was rife over inclusion of Oxford-educated Atishi and Rajiv Chadha, a prominent young face of the party, in the new cabinet. However, sources told PTI that the AAP chief is unlikely to tinker with the existing combination and is set to retain all the incumbent ministers.
Apart from Kejriwal and Sisodia, the other members in the outgoing cabinet are Satyendar Jain, Gopal Rai, Rajendra Pal Gautam, Imran Hussain and Kailash Gahlot.
While outgoing deputy chief minister Sisodia had the education, finance, tourism, women and child development portfolios, Jain was looking after the functioning of the PWD, health and industries departments. In the outgoing cabinet, Gopal Rai was the labour minister, Rajendra Pal Gautam the social welfare minister, Hussain food and civil supplies minister and Gahlot the transport minister.
Chadha and Atishi will have a bigger role in the party in the future and they might also be given charges of some government-run bodies, an AAP functionary said.