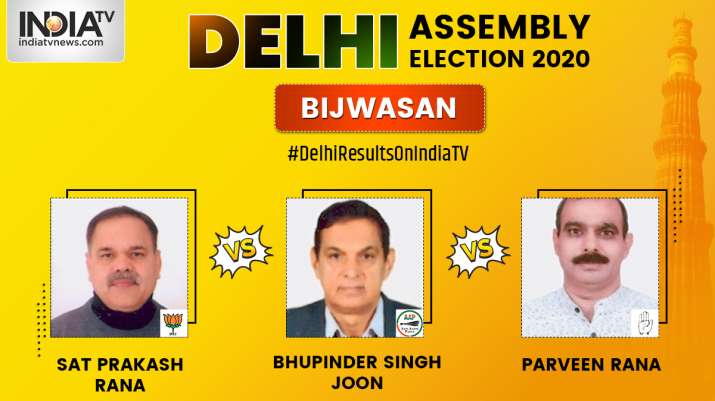 Bijwasan Constituency Result: Aam Aadmi Party's BS Joon has won the Bijwasan Assembly seat by a margin of over 700 votes. He defeated Bharatiya Janata Party's Satprakash Rana by a close margin of 753 votes. Bijwasan Assembly seat comes under the South Delhi Lok Sabha constituency and as per the data shared by the Election Commission, there are 1,86,482 eligible voters in this constituency, including 1,04,945 male, 81,521 female and 16 third gender voters. 
This constituency covers part of Dhulsiras, Vasant Kunj, Mahipalpur, Rangpuri, Nangal Dewat, Bijwasan, Samalkha, Bamnauli, Kapashera, Shahbad Mohammadpur, Rajnagar and part of Dwarka.
In the 2015 Bijwasan Assembly election, Aam Aadmi Party (AAP) candidate Col. Devinder Sehrawat had won from Bijwasan won this seat bagging 65,006 votes and beating Sat Prakash Rana from BJP who received 45,470 votes.
This year the AAP has fielded Bhupinder Singh Joon from Bijwasan constituency. 
Delhi Assembly Election 2015 Result
 
Parties and coalitions
Popular vote
Seats
Votes
%
±pp
Contested
Won
+/−
%
 
Aam Aadmi Party (AAP)
48,78,397
54.3
24.8
70
67
39
95.7
 
Bharatiya Janata Party (BJP)
28,90,485
32.2
0.8
69
3
28
4.2
 
Indian National Congress (INC)
8,66,814
9.7
14.9
70
0
8
0.0
 
Bahujan Samaj Party (BSP)
117,093
1.3
4.1
70
0
0.0
 
Indian National Lok Dal (INLD)
54,464
0.6
2
0
0.0
 
Independents (IND)
47,623
0.5
2.4
222
0
1
0.0
 
Shiromani Akali Dal (SAD)
44,880
0.5
0.5
1
0
1
0.0
Other parties and candidates
42,589
0.5
2.1
376
0
0.0
None of the Above (NOTA)
35,924
0.4