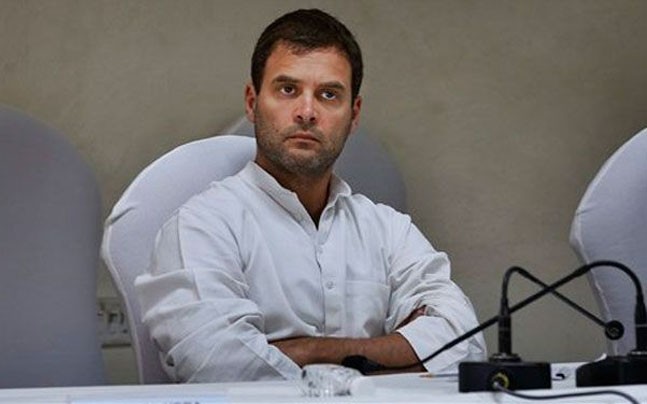 Troubles for Congress do not seem to end anytime soon. The party has been reduced to a handful of states across India and poll results today indicate that it may lose power in Meghalaya as well. 
But the party's plight seems to be last on its president Rahul Gandhi's mind. As the Congress workers are fighting to save power in Meghalaya and dealing with the debacle of dropping down to less than 2 per cent vote share in Tripura, Congress chief is away in Italy to celebrate Holi with his grandmother. (Follow full coverage on counting 3 North East states on India TV)
The absence of Gandhi has not gone unnoticed with BJP, which still riding on the Modi wave is expected to add Tripura and Nagaland in its kitty. 
LIVE Updates on Tripura, Meghalaya, Nagaland Election Results
Taking potshots at Congress president, senior BJP leader Giriraj Singh today said that Rahul Gandhi knew that Congress is not going to win, so he went abroad. Speaking to India TV on BJP's poll performance in Northeast assembly polls, Singh alleged that  Gandhi was not serious about politics and governance and 'this is clearly visible'. 
The architect of BJP's Northeast inroads, Himanta Biswa Sarma, also targeted Rahul for his alleged political naivety. 
"If BJP chief Amit Shah is a student of post graduation then Congress president Rahul Gandhi is still in nursery class," the Assam minister said while comparing the two leaders' capability in politics. 
Also read | Tripura Election Results: Here's why Congress is facing massive defeat in this northeastern state
Sarma was in the Congress for nearly two decades and a minister in the then Tarun Gogoi-led Congress governments for nearly 15 years before joining the BJP in 2015.
 
"I would say, if Amit Shah is a student of post graduate in politics, Rahul Gandhi is still in nursery class," he told reporters here when asked to compare Shah and Gandhi's style of functioning. 
After the Assam Assembly elections in 2016, he became education and health minister in Chief Minister Sarbananda Sonowal's BJP-led government in the state. 
Also read | Modi magic continues in northeast as BJP set to register massive victory in Left bastion
Sarma had earlier also criticised Rahul for his style of functioning alleging the Congress president was not a serious politician and "he was busy feeding his dog" when the Assam's then Congress government, where he was part, wanted to discuss urgent issues of the state.
During the last assembly polls, Rahul Gandhi had come under fire from the opposition for watching a film with his friends in a Delhi theatre despite facing heavy loss at the ballot. 
(With inputs from PTI)