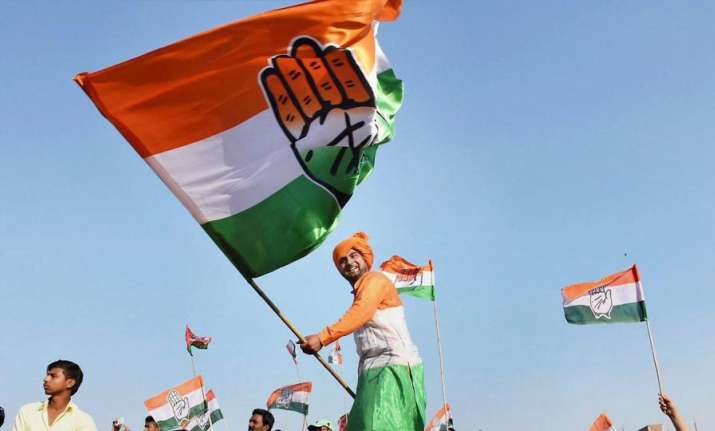 While the Tripura and Nagaland assembly election results are a clear vindication of the saffron wave that is sweeping across the country, Meghalaya is headed to a hung assembly as none of the parties secured absolute majority.
Even though the Congress managed to put up a fair play securing 21 seats, it has failed to reach the magic mark. On the other hand, the National People's Party(NPP) braced closer to the grand-old-party securing 19 seats and the BJP's poor show was restricted to only two seats. 
No doubt, the Bharatiya Janata Party will try and seek help from the regional players or even enter into a post poll alliance with other political parties in order to form government in Meghalaya. 
After the Assembly elections last year threw hung verdicts in Manipur and Goa, the BJP was able to form the governments there with the help of smaller parties and independents. Facing similar situation, the BJP has asked Assam Minister Himanta Biswa Sarma to rush to Meghalaya for holding talks with smaller parties and independents.The Congress has also rushed senior leaders Ahmed Patel and Kamal Nath to Shillong. 
In Meghalaya, the Congress has been in power in Meghalaya since 2003 while the incumbent Chief Minister Mukul Sangma has been in the helm of affairs since 2010.
The National People's Party (NPP), however, exuded confidence that the party would form the next government in Meghalaya with the help of other like-minded parties. 
Here are the highlights:
# Chief Minister and Congress candidate Mukul Sangma won from both Ampati and Songsak constituencies. Sangma, who is the chief minister since 2010, retained Ampati seat defeating his nearest BJP rival Bakul Ch Hajong. He also won from Songsak constituency defeating his nearest National People's Party rival Nihim D Shira. The BJP was in the third position. 
# State Assembly Speaker and Congress candidate Abu Taher Mondal lost to National People's Party's (NPP) S G Esmatur Mominin from Phulbari seat by over 2000 votes. 
# NPP spokesperson James K Sangma retained his Dadenggre seat defeating his nearest Independent rival Rupa M Marak by over 1000 votes. 
# NCP state president Saleng A Sangma won from Gambegre seat defeating his nearest Congress rival Sadhiarani M Sangma by over 100 votes. 
# Adelbert Nongrum of the Khun Hynniewtrep National Awakening Movement (KHNAM) won from North Shillong constituency defeating his nearest BJP rival J Antonius Lyndgoh by 406 votes. Independent Lambor Malngiang won from Nongkrem seat defeating his nearest HSPDP rival AM Basaiawmoit by 76 votes.
# BJP candidate Sanbor Shullai won from South Shillong seat defeating his nearest Congress rival Manas Chaudhuri by over 5000 votes. 
# Urban Affairs Minister and Congress candidate Ronnie V Lyngdoh lost from Mylliem seat to PDF candidate Hamletson Dohling by over 400 votes. 
# Independent candiate Syntar Klas Sunn won from Mawphlang seat defeating his nearest Congress rival Kennedy Cornelius Khyriem by over 1000 votes. UDP candidate Metbah Lyngdoh won from Mairang seat defeating his nearest PDF rival Councellor Singh Wahlang by over 2500 votes. 
# Meghalaya Roads Minister and Congress candidate Martin D Danggo won from Ranikor seat defeating his nearest UDF rival Pius Marwein by over 1500 votes. 
# HSPDP candidate Renikton Lyngdoh Tongkar from Mawkyrwat seat defeating his nearest Congress rival Carnes Sohshang by over 400 votes. 
# NPP candidate Rakkam A Sangma won from Rongara Siju seat defeating his nearest Independent rival Roful S Marak by over 1000 votes.
It is yet to be seen what unfolds and who stakes claim to form government in Meghalaya. Has Congress learnt its lessons or will the BJP be successful in making the right calculations this time too.