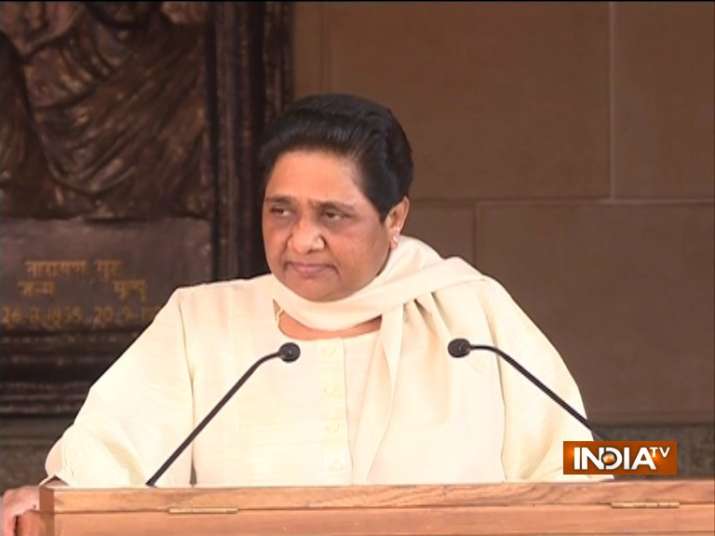 Even as the SP-BSP suffered a jolt in the Rajya Sabha elections at the hands of the Bharatiya Janata Party (BJP), the Bahujan Samaj Party Chief Mayawati on Saturday said that the loss would not affect the new found bonhomie. 
 "I would like to tell BJP and company that their malpractices will not succeed in breaking the ties between SP and BSP. Yesterday's results have not affected the SP-BSP tie up in any way, not even by an inch," Mayawati said at a press conference here. 
"I am thankful for the support of Congress and SP whose seven MLAs voted for BSP candidate as well as one SBSP MLA Kailash Nath Sonekar who voted as per his conscience and will stand by him in case he faces any trouble in future," she said. 
She also said that the recent win for the BJP is nothing to be happy about as it can never make up for their "humiliating" defeat in Lok Sabha by-polls.
"This immoral victory cannot make up for their defeat in Gorakhpur and Phulpur. Even BJP is aware of this. So, this is in no way a revenge of the Lok Sabha by-polls," Mayawati added.  
"We supported SP in Gorakhpur and Phulpur by-polls. BJP was left humiliated. The entire nation took our alliance positively," said Mayawati.
Mayawati further accused the Bharatiya Janata Party (BJP) of misusing government machinery in the Rajya Sabha elections. 
"BJP resorted to horse-trading activities to ensure BSP candidate loses in Rajya Sabha polls. It misused the state machinery," Mayawati said.
Mayawati believed that an environment of fear was created following which cross-voting happened.
"We share the same views on yesterday's result just like any one else. We believe Narendra Modi and Amit Shah used the system to make their candidates win. An environment of fear was created due to which there was also some cross-voting done," she said.
She also suspended her party MLA Anil Singh, alleging he cross voted in favour of the BJP to serve his business interests.
She added that the SP-BSP tried to work out a strategy to defeat the ninth candidate of BJP. 
"SP-BSP leaders tried to work out a strategy to defeat the 9th candidate of BJP. We wanted to ensure that this election is not yet again shamed by people with big money. We, therefore, decided to field a BSP candidate, supported by the SP," Mayawati said. 
​Hinting at threat to life, the BSP chief said, "BJP is reminding us of Guest House incident of 2nd June 1995. The incident took place with the motive to murder me."
"What is BJP trying to prove by giving the policeman involved in that incident the highest position today? Do they want me murdered?," she asked.
WATCH FULL VIDEO: