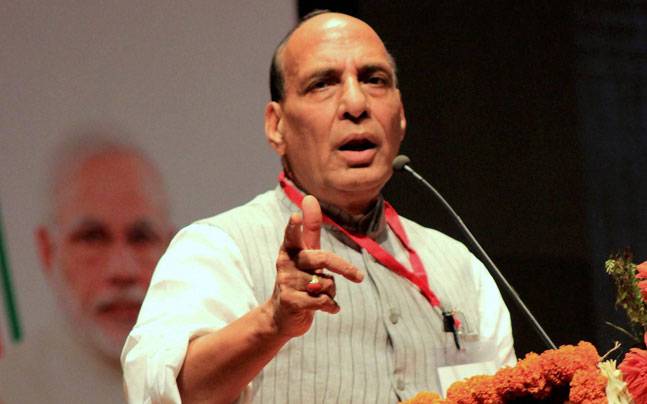 Home Minister Rajnath Singh on Sunday slammed the Manik Sarkar-led CPIM government in Tripura for keeping the people of the state deprived of development.
He was addressing a public rally in Agartala.
Presenting BJP ruled states - Jharkhand, Chhattisgarh and Madhya Pradesh - as examples of development, Rajnath mocked the ruling CPIM saying that the majority of residents in Tripura could not afford a cycle even after 25 years of its rule.
"If one compares present situation in Jharkhand, Chhattisgarh and MP to what it was 15 years back, they'll know how development is done, they'll know what is the art of development. After 25-years of CPIM's govt, 66 per cent of the people here cannot even afford a cycle," Rajnath Singh said.
He also promised to begin CBI probe into the murder case of journalist Sudip Datta Bhowmik within a week of the BJP coming to power. Bhowmik was found dead at a security facility in Tripura.
"There should be CBI investigation in murder of journalists in Tripura. Till state govt didn't recommend it, we cannot do CBI investigation. If our govt comes to power in state within a week we will initiate CBI probe in Sudip Datta Bhowmik case," he said.
Rajnath had on Saturday too asked the people of the state to show the ruling govt the door in the February 18 election. He accused the Left Front government in Tripura of being embroiled in a number of corruption cases.
The voting for the 60-member assembly will be held on February 18 and the counting will be done on March 3.