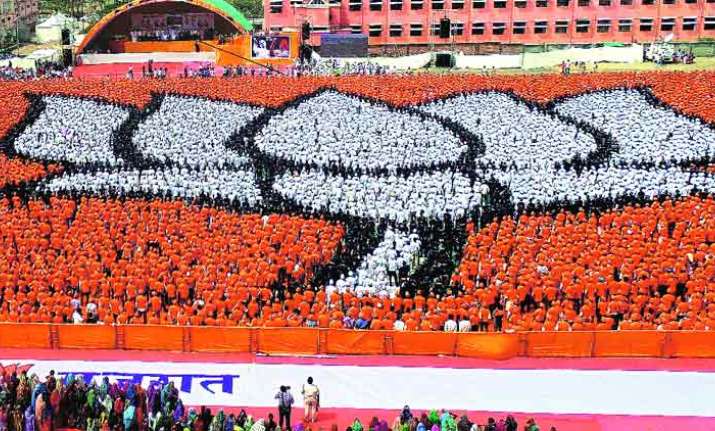 The Bharatiya Janata Party (BJP) is all set to kickstart its campaign for the ensuing 2019 Lok Sabha elections with a massive show of strength on its 38th Foundation Day to be celebrated on Friday.
BJP President Amit Shah, Union Shipping Minister Nitin Gadkari, Maharashtra Chief Minister Devendra Fadnavis, state BJP President Raosaheb Danve-Patil and other top functionaries will be present at the event in Mumbai.
Over 300,000 workers -- booth level to Members of Parliament -- from Maharashtra, Uttar Pradesh, Bihar, Karnataka and Tamil Nadu are expected for the mega event, said Danve-Patil.
To a question whether this signals the launch of BJP's campaign for the next parliament elections, he said: "Yes. You can say that."
Shah will reach Mumbai on Thursday and meet top party core-committee leaders and on Friday evening address a rally of party workers at the Bandra Kurla Complex Grounds.
Danve-Patil said each assembly constituency has around 300-325 booths and since 2014 Lok Sabha and Assembly elections, the BJP has made its presence felt in all booths.
"We want the booth-level workers to come here. They are the grassroots functionaries. They should see the 'viraat-swarup' (grand image) of the party," he said.
However, he made it clear that it is an internal BJP event so no other parties or their leaders have been invited.
Already, around 80,000 booth heads, 26 wings and unit office-bearers, 5,000 village sarpanches, elected members of 97 big and small civic bodies, all MPs and MLAs, district and sub-district heads -- who have been entrusted to bring other five-ten representatives each -- have started arriving in Mumbai.
More than 50,000 buses and vehicles and 28 special trains will ferry the activists from across Maharashtra and other states, at the BKC Grounds, all being supervised by Mumbai party President Ashish Shelar.
Elaborate arrangements have been made at the BKC Grounds with three massive stages, seven marquees for the events and another two marquees for the activists to stay the night.
Provision has been made for their comfortable stay with food packets and water supply during the entire duration of their halt in Mumbai.
Besides, similar celebrations shall be held in all districts and other states of India, and various people-oriented welfare programmes of Prime Minister Narendra Modi shall be showcased through digital and social media.