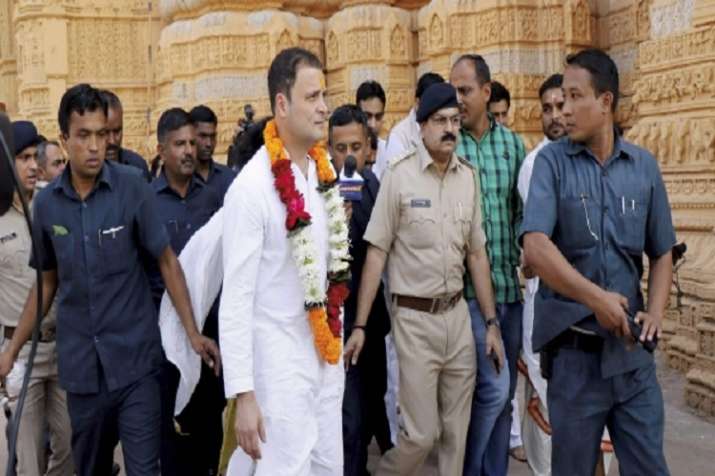 Congress President Rahul Gandhi will on Monday visit the famous 'jyotirlinga' in Ujjain and will perform a puja before embarking on a two-day tour of the BJP-dominated Malwa-Nimar region in poll-bound Madhya Pradesh. This comes months after BJP President Amit Shah's visit to the Mahakaleshwar temple in the state on July 14 this year.
The Congress chief has been accused of playing the "soft Hindutva card" by the BJP, in an attempt to attract the voters in poll-bound states.
Gandhi is set to address rallies in Jhabua, Indore, Dhar, Khargone and Mhow during his two-day tour and will also take part in a road show in Indore.
"During his visit to the Mahakaleshwar temple (one of the 12 'jyotirlingas' of Lord Shiva), Rahul will worship the Lord Mahakal like a common devotee," Congress secretary Sanjay Kapoor said on Sunday.
According to a programme released by Congress, Gandhi will address public meetings at Ujjain and Jhabua, respectively, after visiting the Mahakal temple.
He is also scheduled to participate in a road show to be organised by the Congress in Indore on Monday evening and will address a public meeting at Rajwada.
The Congress president will interact with news editors and the business community in two separate programmes at Indore on Tuesday.
He will later address public meetings at Dhar and Khargone.
On Tuesday evening, Gandhi would address a public meet at Mhow after offering tribute at the memorial of Dalit icon BR Ambedkar's birthplace.
Meanwhile, the BJP on Sunday ridiculed Gandhi for visiting temples in poll-bound states.
Madhya Pradesh goes to polls on November 28 and the votes will be counted on December 11.