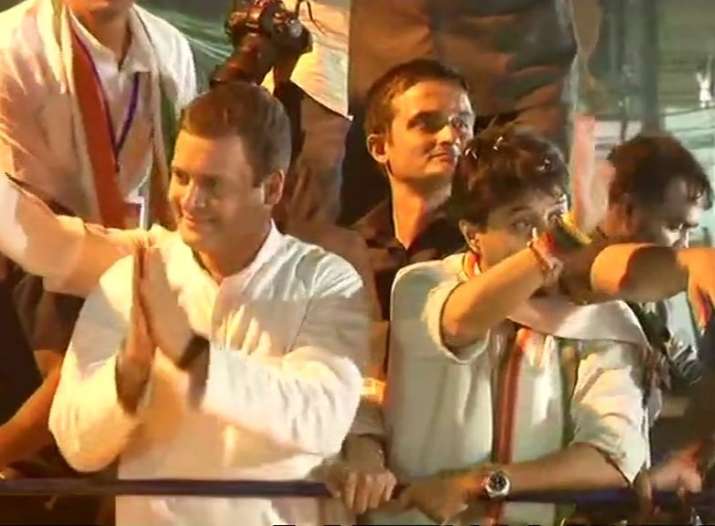 Congress President Rahul Gandhi on Monday held a roadshow in Indore amid chants of "Har Har Mahadev", as he began his day by offering prayers at Ujjain's Mahakaleshwar temple and addressing two election rallies in poll-bound Madhya Pradesh.
The chief hit out at the Narendra Modi government at the Centre and the Shivraj Singh Chouhan regime in Madhya Pradesh and alleged failures on several fronts, including jobs and corruption.
The Bharatiya Janata Party (BJP) retorted, saying Gandhi was trying to build his image as that of a "Shiv bhakt" with his temple visits.
Earlier in the day, Gandhi addressed public meetings at Ujjain and Jhabua.
During his roadshow, Gandhi waved at the people and shook hands with some of them as he proceeded with the three-km journey from the Bada Ganpati intersection in the state's commercial capital to the historic Rajwada.
The Congress chief attacked the Central government over the implementation of GST, as he addressed a corner meeting from his vehicle at Rajwada.
"Did the shopkeepers of Indore benefit from the Gabbar Singh Tax? This tax regime has added to the difficulties of small traders," the Congress chief said.
The GST would be implemented in a "correct manner" if the Congress was elected to power after the 2019 Lok Sabha polls, he said, adding that his party would bring in "a corruption-free system of one-tax, lower-tax".
The Congress chief was accompanied by the party's state unit chief, Kamal Nath, and Jyotiraditya Scindia, who heads its state campaign committee.
During his two-day tour that began Monday, Gandhi will visit the politically crucial Malwa-Nimar region, which accounts for 66 of the 230 Assembly seats in the state.
The Congress president is scheduled to address rallies in Jhabua, Indore, Dhar, Khargone and Mhow.
Union Law Minister Ravi Shankar Prasad, meanwhile, in Chhattisgarh's Raipur said Gandhi was trying to build his image as a "Shiv bhakt" with his temple visits.
Madhya Pradesh will go to polls on November 28 and the votes will be counted on December 11.