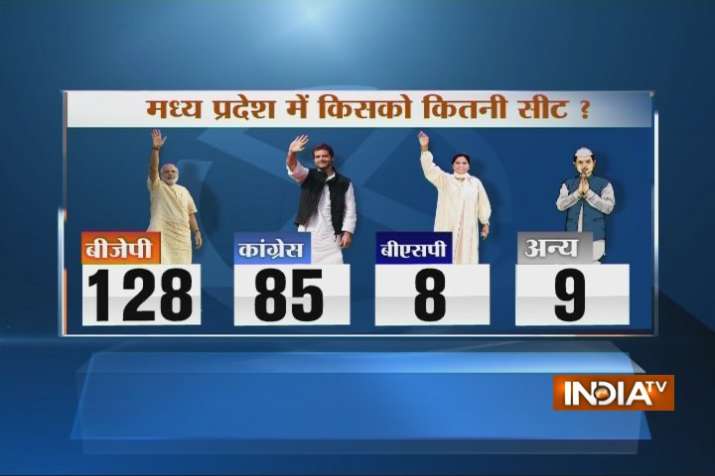 Despite being in power for 15 years, Madhya Pradesh Chief Minister Shivraj Singh Chouhan is likely to get a record fourth term in the state, IndiaTV-CNX Opinion Poll shows. 
According to India TV-CNX Opinion Poll, the BJP may win 128 seats while the Congress may manage to come first on 85 seats. Mayawati's Bahujan Samaj Party (BSP) is expected to win eight seats and Others nine seats in the 230-seat Madhya Pradesh Assembly elections. In the 2013 Assembly poll, the BJP had won 165 seats, while the Congress managed to win just 58 seats.Mayawati's BSP won four seats and others three in the polling for 230-seat state Assembly.  | IndiaTV-CNX Opinion Poll: Highlights
For the BJP, Assembly elections in five states, including Madhya Pradesh, are being seen as a litmus test for the Narendra Modi government at the Centre. For the Congress, it would be a big test for Rahul Gandhi's leadership.
IndiaTV-CNX Madhya Pradesh Opinion Poll: Top takeaways
Vote share:
Vote share wise, BJP may get 42.5 per cent, Congress may get 37.19 per cent, Mayawati's BSP may get 7.7 per cent, and others may get 12.61 per cent votes. In the 2013 Assembly polls, BJP had got 44.88 per cent and the Congress had got 36.38 per cent votes. This represents a 2.38 per cent downward swing in vote share for BJP, the pre-poll survey showed.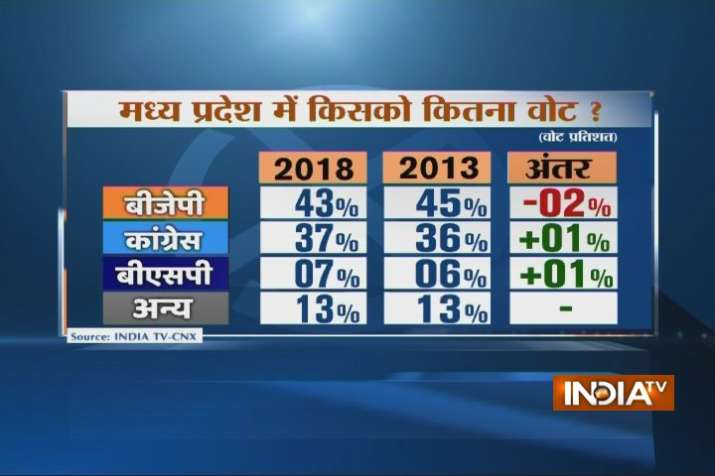 Region-wise prediction
Giving region wise seat predictions, the pre-poll survey shows that Chambal region having 34 seats,  BJP may win 15, Congress 12, BSP four, Others three seats. In Malwa-Nimar region, having 72 seats, BJP may win 45, Congress 24 and Others three seats. 
In Baghelkhand region having 52 seats, BJP may win 25, Congress may win 21, BSP four and Others two seats. In Bhopal region, having 22 seats, BJP may win 12 and the Congress may win 10 seats. In the Mahakoshal region having 50 seats, BJP may win 31 seats, and the Congress 18, leaving one seat to Others. 
WATCH: IndiaTV-CNX Opinion Poll - Shivraj set to retain power in Madhya Pradesh
CM face
In the pre-poll survey, 40.35 per cent respondents said they wanted Shivraj Singh Chouhan as chief minister, while 22.19 per cent favoured Congress leader Jyotiraditya Scindia, 18.08 per cent favoured another Congress leader Kamal Nath.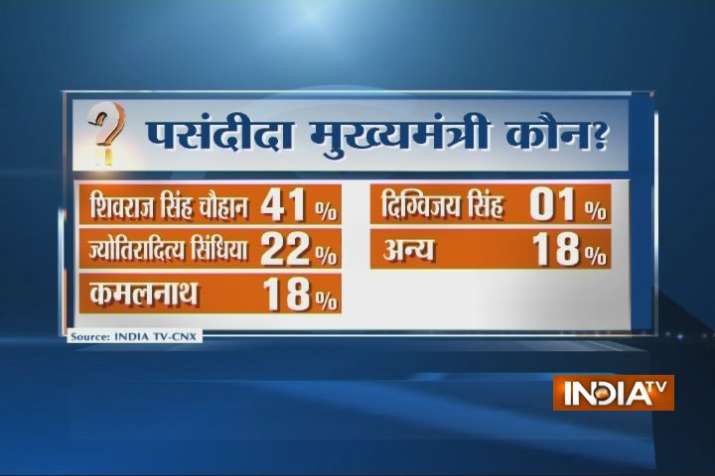 Congress' CM face
Congress supporters in the survey were asked which leader they would prefer as Chief Minister, if the party comes to power. 42.62 per cent favoured Jyotiraditya Scindia, while 35.91 pc favoured Kamal Nath. Former CM Digvijaya Singh stood a distant third with only 10.05 per cent. 
Performance of Shivraj as CM
To the question how would you rate Shivraj Singh Chouhan's performance as CM, 30.42 per cent respondents said Very Good, 10.8 per cent said Good, 22.30 per cent said Poor, 14.34 per cent said Very Poor, 16.14 per cent said Average, and 6 per cent said Can't Say. 
Biggest issue
Asked what will be the biggest issue in the upcoming Assembly polls, 29.11 per cent said Unemployment, 27.42 per cent said Development, 11.91 per cent said Corruption, 10.45 per cent said Fuel Price Hike. Only 1.3 per cent respondents considered Rafale Deal as a poll issue.
WATCH: IndiaTV-CNX Madhya Pradesh Opinion Poll