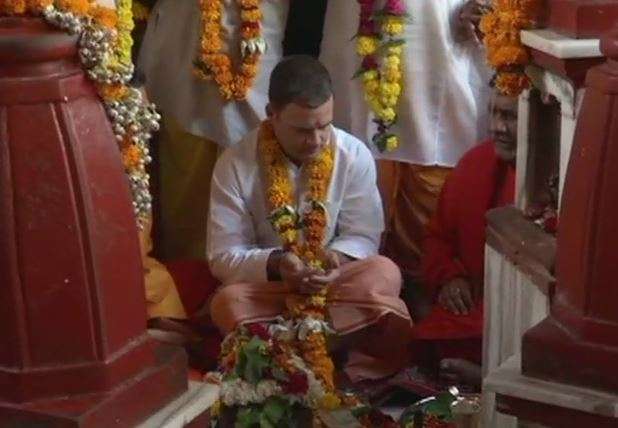 In the poll-bound Madhya Pradesh, Congress president Rahul Gandhi on Monday offered prayers at Peetambra Shaktipeeth in Datia district. Congress leaders Jyotiraditya Scindia and Kamal Nath were also present.
The state will go for voting on November 28 and the counting will be done on December 11.
It is pertinent to mention here that ahead of the Lok Sabha elections 2019, Congress president, apparently, trying to establish Hindu image of himself.
It may be recalled that recently, Rahul Gandhi visited Kailash Mansarovar. He also tweeted pictures from his visit. 
Mount Kailash is a 6,638 m (21,778 ft) high peak in the Kailash Range which forms part of Transhimalaya in the Tibet Autonomous Region of China. It is located near Lake Manasarovar and Lake Rakshastal and is considered to be sacred in four religions- Buddhism, Bon, Hinduism and Jainism. 
#MadhyaPradesh: Congress President Rahul Gandhi offers prayers at Peetambra Shaktipeeth in Datia. Congress leaders Jyotiraditya Scindia and Kamal Nath also present. pic.twitter.com/EPVuhmJw0i

— ANI (@ANI) October 15, 2018
WATCH VIDEO: MP Polls 2018: Rahul Gandhi offers prayers at Peetambra Shaktipeeth in Datia​