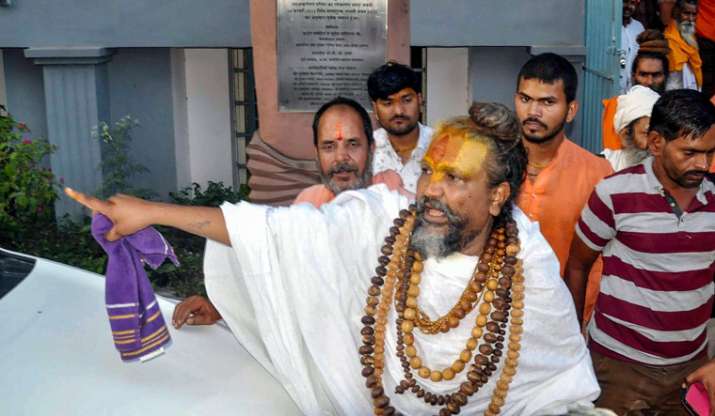 Self-styled godman Computer Baba alias Namdeo Das Tyagi on Tuesday launched a campaign to unite seers against the "anti-religion" Shivraj Singh Chouhan-government in poll-bound Madhya Pradesh. Computer Baba had resigned as Madhya Pradesh minister of state on October 1. Six months before his resignation, Baba was accorded the MoS status while accusing the chief minister of not fulfilling promises, including cleaning the Narmada river.
The self-styled godman appealed to uproot the BJP government in the November 28 polls, while addressing a gathering of nearly 1000 seers from 13 Akharas (spiritual denominations) in Indore on Tuesday.
"(CM) Shivraj Singh Chouhan had promised me that the Narmada river will be kept clean and illegal sand mining won't be allowed. But these promises were not kept. Now we have understood that the Shivraj government is anti-religion," he said.
The godman also accused the state government of "doing nothing" for the protection of cows and "destroying Hindu shrines, temples and dwellings of seers in the state".
A number of seers at the gathering also slammed the state government over issues like quota, construction of Ram temple in Ayodhya, Vyapam scam and "rising spate" of crimes against minor girls.
Some local Congress leaders were also spotted at the gathering.
Computer Baba however, said leaders of the Congress party had nothing to do with the congregation which was open to all.
"We are not supporting any party but are against this anti-religion government which should be uprooted in the
forthcoming assembly elections," he said.
Baba further announced organising such gatherings in upcoming days in Gwalior, Khandwa, Rewa and Jabalpur, which will also witness the presence if saints from various parts of the country.
BJP vice-president Vinay Sahasrabuddhe meanwhile, refused to comment on the campaign launched by Baba.
Madhya Pradesh goes to polls on November 28 and the votes will be counted on December 11.
WATCH: 'Computer Baba' challenges Shivraj Singh Chouhan in MP