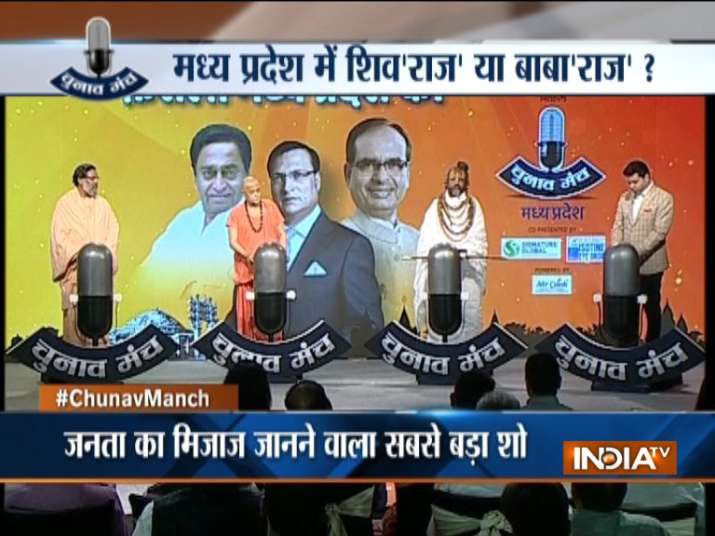 Launching a scathing attack on Chief Minister Shivraj Singh Chouhan, former state minister Computer Baba on Saturday accused Madhya Pradesh government of cheating saints of the state.
Participating in Chunav Manch – India TV's mega conclave on Madhya Pradesh Assembly Elections 2018- Computer Baba alleged that the Shivraj Government was dharma virodhi (anti-religion).
Vowing to uproot the Shivraj government in upcoming assembly elections, Computer Baba said that the BJP government only wore the mask of "Hindu and saffron" government.
He further alleged that the Shivraj govt brought saints on board by promising to clean river Narmada but did nothing to cleanse the sacred river.
Computer Baba also accused the Shivraj govt of completely failing in checking the illegal mining in the state.
He also claimed that he quit Shivraj ministry because of his commitment to the cleaning of river Narmada. 
Rejecting all charges levelled against Shivraj Singh Chouhan, MP minister Akhileswaranand Baba said that the Madhya Pradesh chief minister was a religious and sensitive man.
The MP minister countered Computer Baba's claims of not fighting any elections by reminding him of the newspaper reports that quoted him as saying that he was ready to contest if Shivraj Chouhan asked him to do so.
"You had also gone to Kamal Nath but he rebuffed you," Akhileswaranand Baba told Computer Baba.
On the controversy over Shivraj Chouhan's statement on job reservation to weaker sections, Akhileswaranand Baba said that the chief minister's remarks were misunderstood. 
Expressing his view that a family should not get the reservation again after availing it once, Akhileswaranand Baba said that the govt may reconsider it after 2020.
Another panellist Naveenanand Saraswati also defended CM Chouhan and accused Computer Baba of making baseless allegations against the chief minister.
However, Naveenanand said that though Shivraj Chouhan makes many announcements related to the religion, these announcements are never implemented.
He also accused Shivraj govt of talking about Cow ministry just ahead of elections.
Watch: 'Computer Baba' calls Shivraj govt 'anti-religion'