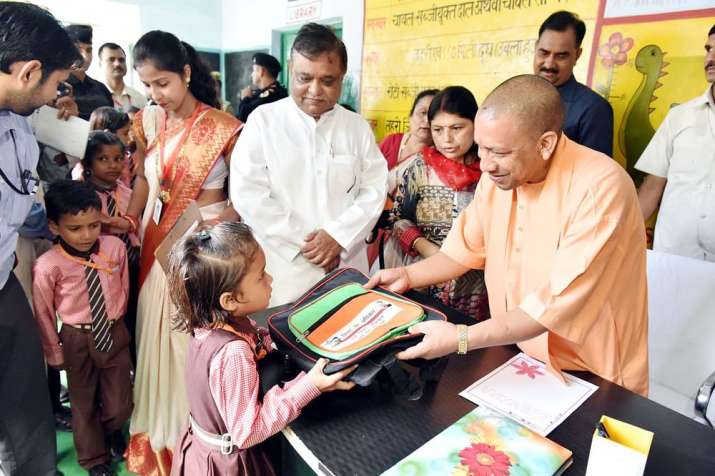 By visiting all the 75 districts of the state during the past 16 months, Uttar Pradesh Chief Minister Yogi Adityanath has set a record of sorts. With his visit to Hathras on Monday, the chief minister has covered all the 75 districts of the state in 16 months, which is a rare feat, a government spokesman said. On Sunday, he had visited Etah which was the 74th district visited by him. 
Since assuming charge as the CM on March 19, 2017, Adityanath has been criss-crossing the state. He has been holding various government programmes, reviewing law and order situation and developmental works to underline the priority of the state government and to ensure that no part of the state feels neglected. 
"It is not that he has just touched all the districts... he also had night stays in some of them and there are some places where he has made frequent visits in keeping with their importance," the spokesman said. 
"Varanasi, the parliamentary constituency of Prime Minister Narendra Modi and its developmental works are the topmost priority of the chief minister and he has visited it several times, even if it was not connected with the visits of Modi," the spokesman said. 
What is "Noida" jinx?
Adityanath also defied the "Noida" jinx on December 23 and paid a visit to check arrangements ahead of the Prime Minister's visit on December 25 last year. 
There is a superstition that any chief minister visiting Noida loses power and does not come back to assume the office again and various chief ministers have avoided visiting it in the past. 
It all began in June 1988 when the central leadership asked the erstwhile Chief Minister Veer Bahadur Singh to step down soon after he returned from Noida. 
Meanwhile, the BJP congratulated the chief minister, saying that his government was working on the motto of "sabka saath sabka vikas". 
It is pertinent to mention here that UP sends the largest numbers of MPs (80) in Lok Sabha. So, keeping in mind the upcoming Lok Sabha elections 2019, the state gains considerable significance. 
After BJP losing in the Lok Sabha by-polls, it becomes even more important for the CM to sense the pulse of the entire state.
(With PTI inputs)