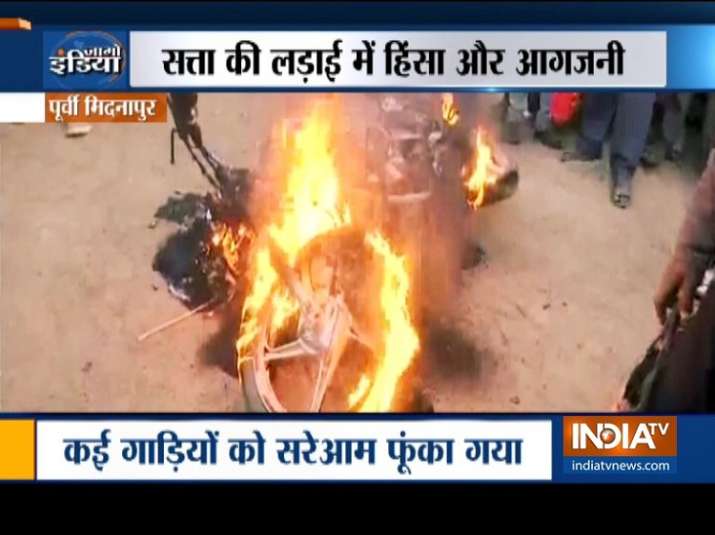 BJP Spokesperson Sambit Patra on Tuesday slammed West Bengal Chief Minister Mamata Banerjee over violence in the state following party President Amit Shah's rally in East Midnapore. Patra held Trinamool workers responsible for vandalising and setting ablaze buses in the state and said Mamata Banerjee was behaving like a "Talibani Didi".
"The way stones were pelted, buses were vandalised and set ablaze, shows what kind of situation is prevailing in West Bengal. This is the real face of Mamata Banerjee," he said while addressing a press conference.
"What kind of act is this? You (Mamata Banerjee) are behaving like Talibani Didi," he added.
Alleging the West Bengal chief minister was scared of the support for the saffron party, Patra said that was the reason she has been trying to terrorise people.
He further condemned the incident and termed it undemocratic. "Talibani forces are active in Bengal under Mamata Banerjee. Today's incident has proved it," he said.
He also hit at opposition parties for taking part in Mamata Banerjee's Kolkata rally and sought to know their stand on the issue.
"You won't allow CBI to enter in the state. You won't allow rallies and yatras of BJP leader. You raise doubts on army and BSF. You won't allow any democratic process in the state. Is this democracy," the BJP leader asked.
"Will you save democracy by vandalising buses and setting ablaze them. We will not bow to this kind of threat," he added.
Union Home Minister Rajnath Singh expressed serious concern over the violence following Amit Shah's rally and called up the state Chief Minister Mamata Banerjee asking her to take strict action against the guilty.
A tweet from the home minister's official account read, "The Home Minister asked West Bengal CM that those who indulged in violence should be brought to book."
Reacting on the refugee crisis, Amit Shah slammed the Banerjee government and said if elected to power, the BJP will ensure citizenship to all refugees and drive away all the infiltrators from Bengal.
Violence in West Bengal broke out soon after Shah's rally in East Midnapore district's Contai area. According to reports, some people attacked the BJP members who participated in the event.
An office of the Trinamool Congress party was vandalised and several buses of BJP workers were set ablaze in a clash between activists of the two parties.
Over 300 cars were set ablaze during the violence, the BJP said.
Meanwhile, the local police was seen not taking any action to control the incident.
While BJP accused the hooligans backed by Trinamool Congress for attacking their party workers on their way back from Shah's rally, the state ruling party leaders blamed BJP supporters for the vandalism.
West Bengal Minister and Trinamool leader Subhendu Adhikari, however, accused the BJP supporters of conducting "pre-planned terror" as he refuted the charge.
He claimed that the offenders would have to pay a "heavy price" for their actions.
"If they came to attend the rally, why were they carrying sticks, rods and bombs? They planned to conduct vandalism. These people were once with the Left Front, now they have joined BJP. They will have to pay a price for this," Adhikari said.
"BJP workers attacked our party offices and this led to retaliation by our workers. If our party office is attacked, are we going to offer sweets?" he said.
Amit Shah addressed a public rally in the area on Tuesday where he launched a scathing attack on the Mamata Banerjee government on several issues, including chit fund scams, and illegal infiltration and urged people to uproot the Trinamool Congress regime.
Watch Full News