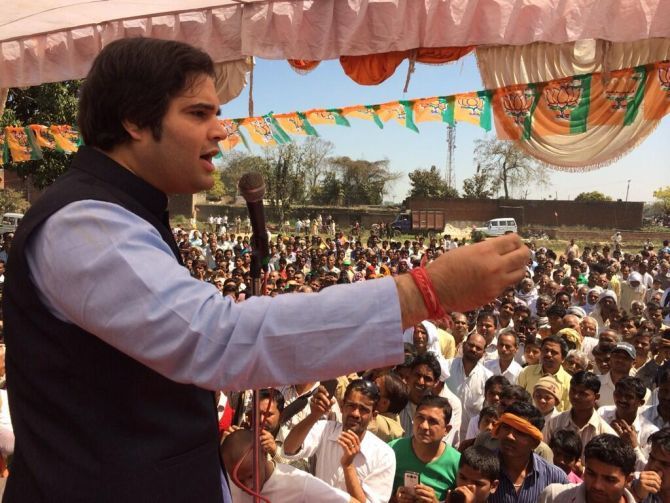 Bharatiya Janata Party (BJP) leader Varun Gandhi has said he was ready to give jobs to Muslims even if "they don't vote for him".
Varun, while campaigning in Uttar Pradesh's Pilibhit on Sunday, said he would provide jobs to Muslim voters who don't even support him but added that if they vote for him, he would be very happy.
This is in contrast with his mother, senior BJP leader Maneka Gandhi, who recently ran into controversy when she said she would not do anything for the Muslim community if it did not vote for her.
Varun, on Sunday, said, "Bass main eik cheez Muslim bhaiyon ko bolna chaahta hoon ki agar aapne mujhe vote diya toh mujhe bahut achchha lagega, agar aapne mujhe vote nahin diya, toh koi baat nahin. Tab bhi mujh se kaam le le na, koi dikkat ki baat nahin. [I just want to say one thing to my Muslim brother that if you vote for me, I will feel good. But even if you don't, it is okay. You can still demand jobs from me.]"
In this election, mother-son duo Maneka and Varun Gandhi have swapped their respective constituencies. 
A few days back, Union minister Maneka Gandhi was caught on camera threatening a few members of the Muslim community to vote for her in the upcoming Lok Sabha polls or face consequences.
The consequences would be the Muslims not receiving any help from her in the unforeseeable future.
Maneka Gandhi was addressing a gathering in Uttar Pradesh's Sultanpur, where she is contesting on a BJP ticket.
In the short address, Maneka Gandhi also said she would anyway win the Lok Sabha election from Sultanpur "with or without" Muslim votes.
But if they don't vote for her, 'mann khatta ho jaayega', she said.
"Agar meri jeet Musalmaanon ke bina hogi toh mujhe bahot achchha nahin lagega kyunki itna mein bataa deti hoon ki phir dil khatta ho jata hai. Phir jab Musalmaan aata hai kaam ke liye phir main sochti hoon ki nahin rehne hi do, kya farq padta hai. Aakhir naukri ek saudebaazi bhi toh hoti hai. Baat sahi hai ki nahin? Aisa nahin hai ki hum sab Mahatma Gandhi ki chhatti aulaad hain, ki bass detey hi jaayenge aur elections mein maar khaate hi jaayenge. Ye jeet aapke bina bhi hogi, aapke saath bhi hogi. Aur ye cheez aapko sab jagah phailaani padegi...Samajh gaye aap log?" she said, in the video.
This roughly translates to: "I will win this election anyway. But if the Muslims don't vote for me, and then they come to me for some work, I will not do it. Why should I do it?"
Maneka Gandhi's three-minute speech went viral on social media and led to outrage for its blatant communal content.
Her statement, however, did not go down well with the Election Commission as it felt the Model Code of Conduct (MCC) was breached and barred her from campaigning for 48 hours.
Pilibhit will vote on April 23, while Sultanpur will vote on May 12.