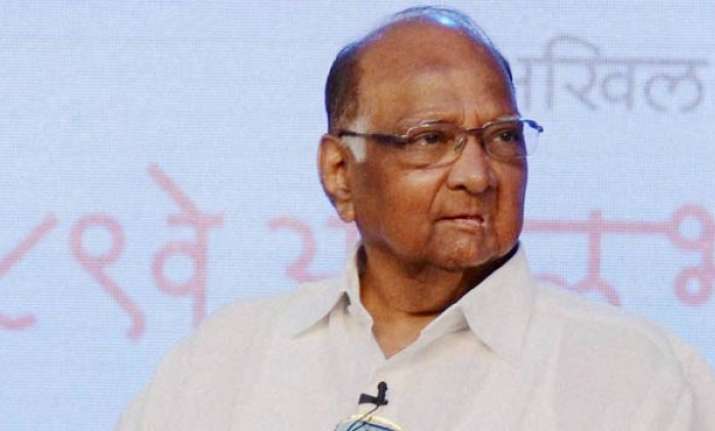 Nationalist Congress Party (NCP) President Sharad Pawar will contest the 2019 Lok Sabha election from Madha constituency in Maharashtra, party sources said in Mumbai on Wednesday. An official announcement on the same is however awaited, which is expected to end weeks of speculation on this count, they said.
Pawar's candidature for the Lok Sabha "is not yet finalized" but a senior state leader categorically confirmed the decision, a Rajya Sabha member from the NCP guardedly said.
Meanwhile, the NCP and the Congress on Wednesday finalised the seat-sharing agreement for their alliance in Maharashtra after Sharad Pawar and Rahul Gandhi met in Delhi. Gandhi met Pawar in the afternoon at the latter's residence.
NCP leaders Praful Patel and Supriya Sule as well as Congress leaders Mallikarjun Kharge and KC Venugopal were also present during the hour-long meeting.
The NCP and the Congress have finalised the seat-sharing agreement, Pawar said, without divulging details of how many seats each party will contest.
The announcement of the seat sharing and the details will be made in Mumbai, he said.
In the 2014 Lok Sabha polls, the two parties were in alliance and the Congress contested on 26 seats, winning 2, while the NCP contested on 21 seats, winning 4. However, the parties parted ways in the state assembly polls held months after the general election.
Pawar, 78, has been a three-time Chief Minister of Maharashtra besides being the Defence and Agriculture Minister in the Centre.
Now a Rajya Sabha Member, the development comes after Pawar repeatedly asserted in the past couple of years that he wanted to quit "electoral politics" and give space to gen-next in the party. But he hinted at a return to the election battlefield last week.
(With agency inputs)