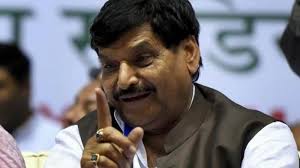 Disgruntled party Samajwadi Party (SP) leader Shivpal Singh Yadav, who floated 'Samajwadi Secular Front' this week, said on Friday that his new outfit will contest all the 80 Lok Sabha seats in the 2019 general elections. ​
Yadav, who was a minister in the erstwhile Akhilesh Yadav government in the state, had been publicly airing his disenchantment with the party for last few days.
"Mine is a long fight and that he would assimilate all who have been "marginalized and humiliated" in the SP," Yadav told reporters on Friday. 
Buoyed by the grand welcome accorded to him by party workers, he also ruled out any truck with the Bharatiya Janata Party (BJP).
Trashing such reports as a ploy by his opponents to dent his image, the former state SP chief said he was forced to form the Front after being pushed to a corner, with humiliation heaped on him by the present leadership of the party he founded with his elder brother 26 years back.
"We made the SP with lot of passion and hard work, but now the seniors are being sidelined and humiliated. This couldn't have gone on endlessly...and hence the formation of the Front was decided," he said.
The objective of the Front, he added, is to work for development of Uttar Pradesh and take up the cudgels on behalf of the poor, weaker sections and the oppressed. 
Asked what are his differences with Akhilesh Yadav, he ducked the question by saying he has differences with no one now.
When asked if he is working in tandem with his old friend and former SP General Secretary Amar Singh, he answered in the negative.
(With PTI inputs)