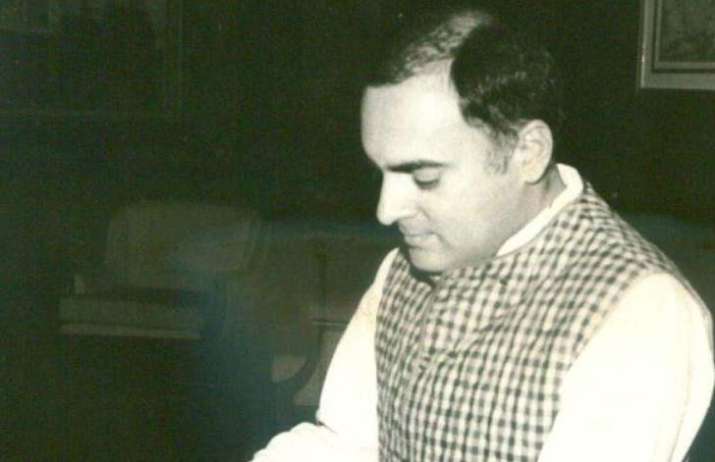 Did he or did he not? That is the question. But even if he did, is it really that unethical?
So many questions and nobody to answer. But the two biggest political parties of the country are still sparring over former prime minister Rajiv Gandhi's purported vacation in 1987 in the Lakshadweep archipelago.
Prime Minister Narendra Modi recently stoked a controversy when he dug out an old India Today magazine article that said the late Rajiv Gandhi took his whole family and a bunch of guests to a vacation in Lakshadweep aboard INS Viraat.
For the unversed, INS Viraat is a warship and is used only for security and defence purposes.
The India Today article had described the vacation as a family getaway, and quite controversial due to the presence of Bollywood megastar Amitabh Bachchan and his family.
"Questionable actions were, however, in evidence. India's premier warship, INS Vir[a]at, was used to transport the Gandhis and moved in the Arabian Sea for 10 days. Its daily expenditure at sea is astronomical as the Virat travels with an entire retinue of escort ships," the India Today article read.
PM Modi, quite conveniently, quoted this and said the Gandhi family used Indian warships for family vacations.
Since then, a plethora of responses and reactions have made way to the news to refute, denigrate or even, for that matter, make peace with the fact that there indeed was a vacation.
Yes, there was a vacation. But who does not go for a vacation? But by a national warship?
The then skipper of the aircraft carrier, Vice Admiral Vinod Pasricha (retd), on May 9, in an interview to Hindustan Times, has contradicted the claim stressing the late Rajiv Gandhi embarked the vessel in his official capacity and there were no foreign nationals aboard. He added Gandhi spent two nights on board, and that no foreigners accompanied him.
Pasricha, who retired in 2002 as the Western Naval Command chief, said that none of the allegations were true
The Hindustan Times report adds that Pasricha said Rajiv Gandhi was accompanied by his wife Sonia, son Rahul and a couple of IAS officers. "We hosted a dinner for them in the wardroom so that the crew could meet the PM. The Gandhis did not have any parties on board. I find this controversy quite amusing," HT quotes Pasricha, as saying.
Another retired navy officer endorsed Pasricha's version, saying it was not uncommon for prime ministers and their spouses to board warships in their official capacity.
News agency IANS reports that Admiral Ramdas, who was the chief of naval staff then, in a detailed statement, said the then prime minister had gone on an official trip to the Lakshadweep Islands to chair a meeting of the Islands Development Authority (IDA) held alternatively between Andaman and Lakshadweep Islands.
There were no parties held on INS Viraat or any of the other four warships accompanying the erstwhile aircraft carrier of the Indian Navy and no foreigners accompanied Rajiv Gandhi, said Admiral Ramdas, who is now settled in Raigad, adjoining Mumbai.
IANS further says the statement was issued after collating responses from his former senior naval colleagues -- Admiral Arun Prakash, Vice Admiral Vinod Pasricha and Vice Admiral Madanjit Singh -- all of whom were serving in the Western Fleet.
"The PM is authorised to travel along with his spouse by service aircraft on official duties," Admiral Ramdas said.
Another officer said the meetings and functions were held in December 1987 and the Western Fleet had planned its naval exercises with the (INS Viraat) much in advance in the annual exercise programme to be conducted in that region in the Arabian Sea.
"This was an opportunity for the officers and men to interact with their Prime Minister. He addressed the men, had 'Bada Khana' as per naval traditions," said an officer who later hosted a dinner for Rajiv Gandhi and produced a photograph to confirm it.
A retired IAS officer, Habibullah, remembered how Rajiv Gandhi and Sonia Gandhi landed in Lakshadweep in a government chopper. He told India Today: "INS Viraat was in the sea for the PM's backup security. The Prime Minister needs backup security and in the middle of the ocean, there's no other option other than warships."
But, there are naysayers too.
At the time of the events -- in 1987, a series of articles were published in the Indian Express that completely derided the aforesaid vacay. 
An article published on December 28, 1987 said "informed sources say preparations for the Prime Minister's holiday started about four months back…"
A January 24, 1988 article penned by N Madhavan Kutty stated: "At least eight foreigners joined the Prime Minister and his family during their New Year holiday here. In all, the group consisted of 24 men, women and children. Looking after their needs were 70 persons from various departments, cooks and valets and naval personnel. Nearly 1,200 policemen drawn from Lakshadweep Police and Madhya Pradesh Armed Special Police, based at neighbouring Agatti island, were on patrol on the periphery of Bangaram."
"The PM's powerful personal secretary, V George… had stayed back at INS Viraat along with Mani Shankar Iyer, Mrs Sarla Grewal, M M Jacob and others…" it added.
Back in the January of 1988, the BJP had asked Rajiv to reveal names of "holiday guests" at Lakshadweep. BJP general secretary Krishnalal Sharma had named Amitabh Bachchan as a guest which raised doubts.
Cut to 2019, when a group of ex-naval officers backed PM Modi's claim. Former Navy Commander (retired) VK Jaitly said the Gandhi family had extensively used naval resources during their holidays.
Rajiv and Sonia Gandhi used INS Viraat for travel to celebrate their holidays at Bangaram island. Indian Navy resources were used extensively. I am a witness. I was posted on INS Viraat that time. Commander VK Jaitly

— Commander VK Jaitly (@vkjaitly) May 9, 2019
Jaitly spoke to Republic and said, "I was witness to the entire episode. A room was readied in the admiral's cabin for the Gandhis. It's true that the Gandhis used INS Viraat to head towards Lakshadweep. It's not a small thing. Vice Admiral Pasricha was our commanding officer. He would know about the foreigners. The warship was anchored off Lakshadweep. The aircraft carrier never sails alone. Several Naval ships accompanied. Resources were used."
Another former navy officer, Lieutenant Commander Harinder Sikka spoke to Times Now: "A foreign national was roaming freely in the most-coveted warship. Control rooms were made open for civilians. Navy resources were used for holidaying. We were furious but as serving officers, we could do nothing. Now we are speaking out. Prime Minister in INS Viraat is okay but his wife was a foreign national and sensitive information was at stake. No one, even Navy officers, was not allowed inside but here they were holidaying. I raised the issue before the Commanding Officer and I was asked to shut up. He is the prime minister."
The Bofors scandal of that era had then gathered force and overshadowed the vacation.
The odds of an opposite reaction are more this time around as with May 23 -- the day of result -- a few days away, the BJP and the Congress party have vowed to not back down. 
While the BJP is alleging Congress of 'naamdaari' again, and yet again, Congress chief Rahul Gandhi and his sister Priyanka are waiting for 'Karma' to strike upon Modi and co.
When asked about the vacay, Rahul said, "Holiday on the INS Viraat? That's crazy. Why would anyone holiday on an aircraft carrier? It's not a cruise ship!"
Of course, it is not a cruise ship. And that's the whole point. So, will 'Karma' finally strike? Well, only May 23 will tell.
(With inputs from agencies)