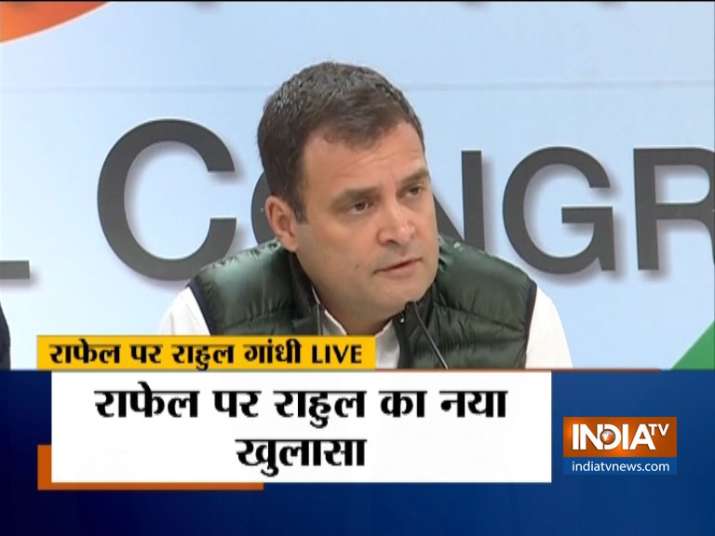 Congress president Rahul Gandhi on Tuesday come out all guns blazing at Prime Minister Narendra Modi and industrialist Anil Ambani. He alleged that PM Modi is acting as the "middleman" in the Rafale deal.
"Narendra Modi ji is acting as the middleman of Anil Ambani. This email is clear. An Airbus executive wrote that Mr. Anil Ambani met the French Defence Minister and told him 10 days before the Rafale deal was signed that he was going to get it," said the Congress president.
"Now PM needs to answer how did Anil Ambani know 10 days in advance of the Rafale deal. Defence Minister, HAL, Foreign Secy don't know but Anil Ambani knew. If this is true then PM is in violation of official secrets act, criminal action must be initiated on this basis," he added.
"This is now treason, Mr. Narendra Modi is doing what spies do, he is informing somebody of a defence matter. He is under oath to protect these secrets," he said.
Congress president also criticised CAG report.
"CAG report is a worthless report. I would term it as a 'Chowkidar Auditor General Report'. It is Narendra Modi's report, written for the Chowkidar, on behalf of the Chowkidar, for the Chowkidar by the Chowkidar," he stressed.
It is pertinent to mention here that just months ahead of Lok Sabha elections 2019, the principal opposition party is trying to corner the Centre over the Rafale deal.
The opposition party is alleging corruption in the deal.
WATCH VIDEO: