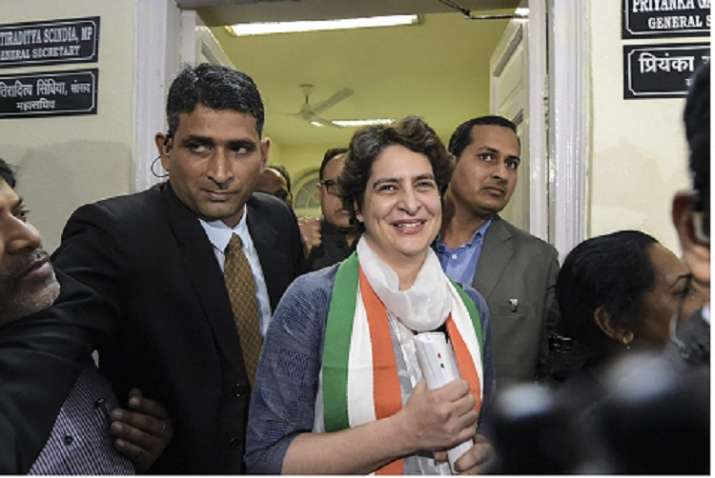 Ahead of the 2019 Lok Sabha polls, the Congress appointed Priyanka Vadra Gandhi as the party's general secretary for the Uttar Pradesh East. Over the years, Congress' decline in UP has been steep. From winning 83 out of 85 seats in 1984, the party was down to just the mother-son pocket boroughs of Amethi and Rae Bareli in 2014, with a mere 7.5 per cent vote share.
Many believe that Priyanka's entry into active politics will have a major impact on the upcoming Lok Sabha polls. Will it change Congress' political fortune in India? What will be the electoral impact in the East and Awadh regions in Uttar Pradesh? 
An opinion poll conducted by CNX for IndiaTV revealed that Congress' move to bring in Priyanka just months before the Lok Sabha election may well prove to be a masterstroke. However, the Bharatiya Janata Party (BJP) appears to be holding its ground despite Priyanka's foray. 
One of the most interesting findings of the survey is that more number of people support Priyanka Gandhi to be the country's prime minister than Rahul Gandhi. As per the opinion poll, while Narendra Modi enjoys support of 47.36 per cent people, 17 per cent people want to see Priyanka as the next PM. Rahul Gandhi is supported by 16.71 per cent and Mayawati 10.19 per cent. Others have the support of 08.74 per cent people. 
IndiaTV-CNX Opinion Poll: Key Takeaways
# IndiaTV-CNX Opinion Poll in Uttar Pradesh's Purvanchal region shows reservation for poor in general category and Priyanka Gandhi's induction in Congress have given a boost to BJP and Congress respectively, while giving a setback to SP-BSP alliance. Out of the 43 seats of Purvanchal region, Congress-led UPA is likely to get four seats, BJP-led NDA 20 and Grand Alliance 19 after Priyanka's entry. The survey shows that the Mahagathbandhan may have won 26 and the UPA just two seats in case Priyanka had decided to stay away from active political role.  
IndiaTV-CNX Opinion Poll: Priyanka Gandhi likely to help Congress sway anti-incumbency votes | HIGHLIGHTS
# Priyanka Gandhi factor may manage to influence voters in Prime Minister Narendra Modi's constituency Varanasi, where the Congress may add 12 per cent votes. But PM Modi appears sitting pretty with an overwhelming support of 55 per cent votes.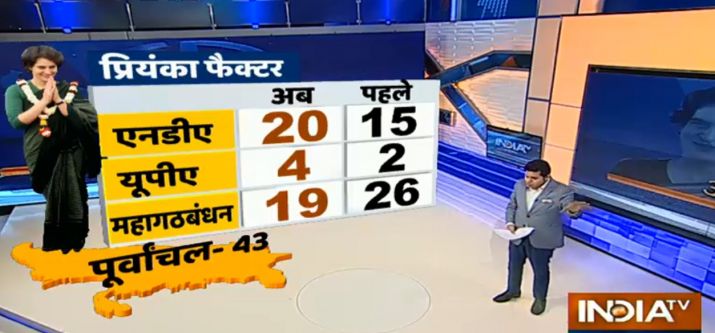 # Congress president Rahul Gandhi may have a tough time retaining his Amethi seat as he is expected to get a tough fight from the BJP. Rahul Gandhi may manage to win the seat. The Priyanka factor may increase support for Rahul by a mere two per cent. The survey also shows that Sonia Gandhi continues to rule hearts of people in her constituency - Rae Bareli. Nearly 60 per cent voters back Congress in Rae Bareli, an addition of 6 per cent since Priyanka's induction.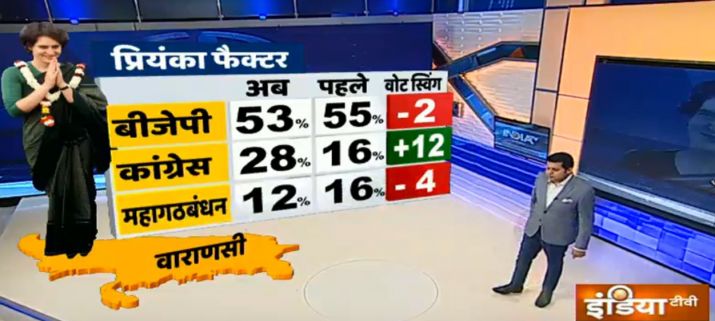 # The survey shows that Congress is likely to benefit from Priyanka Gandhi's entry into active politics, while the SP, BSP Mahagathbandhan or Grand Alliance is likely to suffer a jolt. 
# IndiaTV-CNX Opinion Poll has predicted that Mayawati's BSP will lose the coveted Gorakhpur seat to BJP but with a small margin of 2 per cent. However, even one per cent vote sway induced by Priyanka's entry could raise red flags for BJP.
WATCH FULL VIDEO: IndiaTV-CNX Opinion Poll