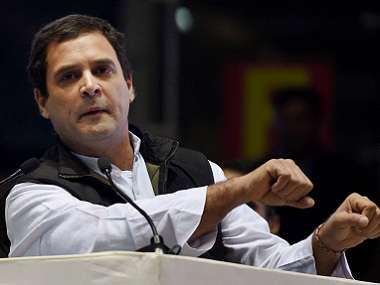 In an indirect attack on Prime Minister Narendra Modi, Congress president Rahul Gandhi on Monday alleged that "supreme leader's" supporters were sending threatening messages to journalists reporting on the "Rafale scam". 
"Supreme leader's minions are now sending threatening messages to journalists reporting on the #RafaleScam asking them to "back off or else...". I'm really proud of the few brave press people who still have the guts to defend the truth and stand up to Mr 56," Congress president tweeted on Monday.
Meanwhile, the Congress party will hold protests over the issue of Rafale deal on August 2 in all the 12 district headquarters of Himachal Pradesh, HPCC president Sukhvinder Singh Sukhu said.
Catch all the latest news about Lok Sabha elections 2019 HERE
He said the Congress would submit memorandums to deputy commissioners in the name of the president, whereby Prime Minister Narendra Modi would be urged to explain to the nation why his government paid an exorbitant price for the purchase of fighter jets as compared to the same deal struck by the previous Manmohan Singh-led UPA government.
Reiterating the allegations leveled by Congress chief Rahul Gandhi in Parliament during debate on the no-confidence motion, Sukhu said, "The nation wants to know why Modi government paid Rs 60,145 crores for the purchase of 36 Rafale fighter jets whereas, UPA-II had struck a deal of just Rs 18,940 crores for the same."
The Congress has been targeting the government over the fighter jet deal, alleging wrongdoings in it. 
Just before the Lok Sabha elections 2019, the issue of Rafale has gained tremendous importance. The opposition is trying to corner the government before the general elections. 
During the beginning of the monsoon session of the Parliament, Rahul Gandhi sharply criticised PM Modi on the Rafale deal. 
The government has strongly rejected the charge.
(With inputs from agencies)