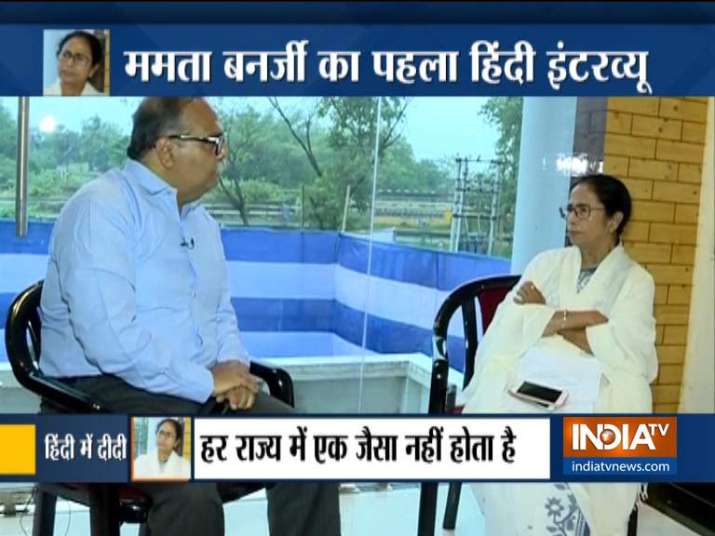 Hitting out at Prime Minister Narendra Modi, West Bengal Chief Mamata Banerjee on Friday said he would not be returning to power again.
In an exclusive interview with India TV's political editor Jayant Ghosal, Mamata Banerjee said that if politics would have been done with money then India would have been flooded with money all over. It is very bad to notice BJP bringing in a politics culture which involves money.
When asked about BJP's politics of polarisation and if it was experimenting it in West bengal too, Mamata Banerjee said, "Every state has its own culture and tradition. Here we live together and work together. There is no discrimination in our state. We don't differentiate like BJP."
Mamata Banerjee said, "We respect everyone in our alliance, irrespective of big or small. Thriugh united rally we gave a message to all that we are all together and will work together. Right now Prime Minister is not an issue for us, the issue is remove Modi, save the country. This time Modi is not coming to power."
"If Modi continues to be in power, the country's independence will be destroyed. He has misused constitutional institution in the country. Demonetisation was a big scandal and it will be investigated when Modi is not there. Modi has lied by saying that he will end terrorism but he failed. Unemployment has increased in his regime," she added.
Mamata Banerjee said, "BJP shows the old fake photos of two small incidents that occured in the state. The most violent incidents occurred in UP, Gujarat but they do not discuss about it. Force have been directed to help BJP at polling booths and also campaign for BJP at Border area. There was no need for elections in seven phases in Bengal. Modi ji wanted to visit the entire country so he needed time for it. In five years, Modi spent crores while traveling to various countries."
Watch Video: