Follow us on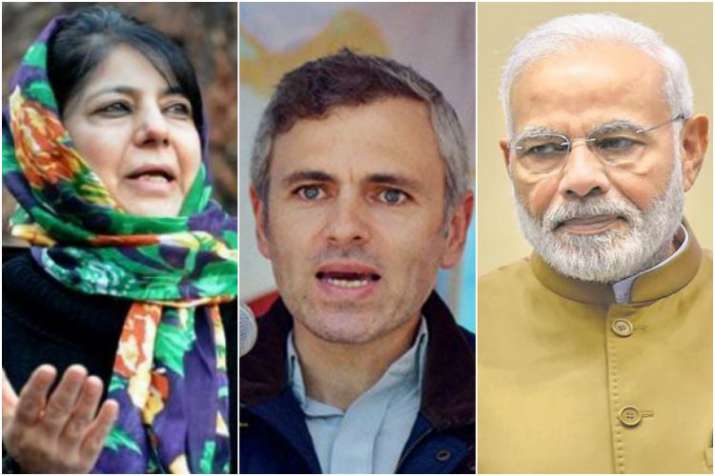 National Conference leader Omar Abdullah and his rival Mehbooba Mufti, Peoples Democratic Party chief, joined hands to attack Prime Minister Narendra Modi over his statement that Jammu and Kashmir has to get rid of two political families, Abdullah, and Mufti family.
Omar Abdullah tweeted, "'We have to rid J&K of these two political families,' says Modiji in 2014 and then promptly goes and makes not one but two members of the Mufti family CM of J&K."
Abdullah didn't stop there. He also shared an old picture of PM Modi and late PDP leader Mufti Mohammed Sayeed embracing one another and wrote: "This is how much Modiji believes what he says. Look how happy he is to seal an alliance with one of the families he wants to rid J&K politics of."
Former Jammu and Kashmir chief Minister Mehbooba Mufti joined the banter and posted a throwback picture of PM Narendra Modi receiving a bouquet from Abdullah. She wrote, "Exhibit B. Modi ji looks thrilled to be greeted by a dynast." 
This came after Mufti tweeted, "I for once have never lowered political discourse by abusing opponents inc BJP. In order to gain sympathy & consequently power, PM is misleading people by equating himself with the nation. Every Indian owes his allegiance to India, not PM Modi. India is not Modi & Modi isn't India."
Earlier in the day, Modi told at his election rally in Kathua, Jammu, and Kashmir that the state needed to be "saved" from the Mufti and the Abdullah families. He also had promised to "stand like a wall" against "attempts of the National Conference and the PDP to continue family rule" in the state. "The state's bright future can be ensured only after Abdullah and Mufti families departure. They can bring their entire clan into the field, can abuse Modi as much as they want, but they won't be able to divide this nation," he said.
The NC chief made this tweet referring BJP's alliance with PDP in 2015, after which Mufti Mohammed Sayeed was made the Chief Minister of Jammu and Kashmir. After his death, Mufti's daughter, Mehbooba Mufti was appointed as the state's Chief Minister.