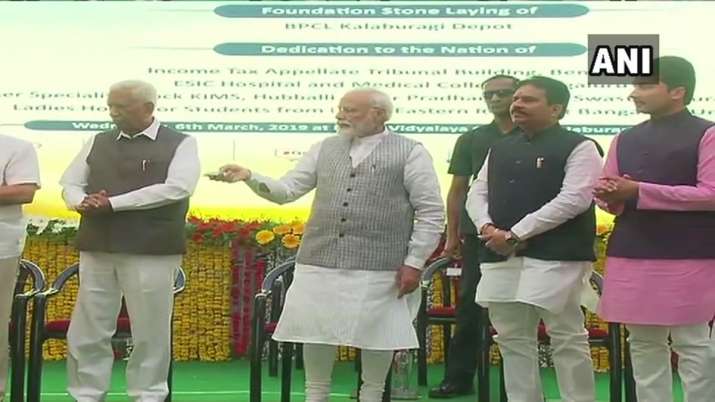 Prime Minister Narendra Modi, on Wednesday, visited Kalaburagi in Karnataka and launched various development projects. PM's visit to the state has come at a time when the Lok Sabha elections 2019 are approaching near. LS polls are scheduled to take place in the months of April-May.
He also addressed a rally. Here are important excerpts from PM Modi's speech:
Person with blessings of 125 crore people is not afraid of anybody, be it Hindustan, Pakistan or thieves: Modi in Karnataka rally
PM Modi accuses Congress-JD(S) govt in Karnataka of doing injustice to farmers
Congress-JD(S) came to power in Karnataka by "backstabbing people": PM Modi at Kalaburagi rally
Karnataka Chief Minister H D Kumaraswamy is "remote-controlled CM", says PM Modi at Kalaburagi rally
Development of Northeast our top priority: Prime Minister Narendra Modi
Farmers across the country have got the 1st instalment. But I could not send the money to Karnataka farmers as Bengaluru govt includes the enemies of farmers: PM
At Kalaburagi, PM launched development projects in various sectors like Energy, Health and Education for the benefit of the people of Karnataka. These include:
Health Sector
In a major boost to the health care sector in Karnataka, PM dedicated the ESIC Hospital and Medical College, Bengaluru to the nation.  He also dedicated the Super Specialty Block of KIMS, Hubballi. These projects will ensure quality and affordable healthcare for the people in Karnataka.
Energy Sector
PM Modi laid the foundation stone of the Resitement of BPCL Depot Raichur to Kalaburagi. In addition. the Prime Minister dedicated the Income Tax Appellate Tribunal Terminal at Bengaluru to the nation.
He also dedicated the 'Women's Hostel for Students from North Eastern Region at Bangalore University.
These projects highlight the continued emphasis of the Union Government to ensure 'Ease of Living'. The Prime Minister also interacted with the beneficiaries of Ayushman Bharat at Kalaburagi.
WATCH VIDEO: