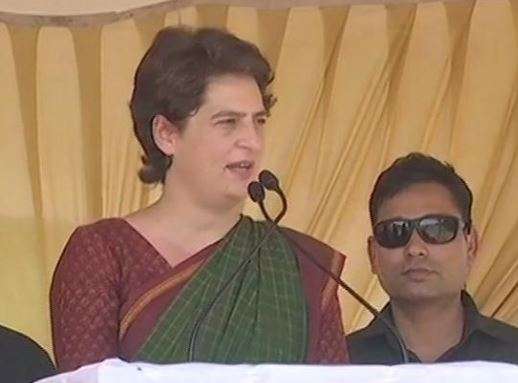 All India Congress Committee General Secretary Priyanka Gandhi on Saturday came forward to defend her brother and Congress president Rahul Gandhi. Saying that Rahul Gandhi has faced massive personal attacks from his opponents in last 10 years, Priyanka Gandhi said that his real self is far from what is portrayed.
Priyanka Gandhi was speaking at a public rally in Wayanad, Kerala. Rahul Gandhi was present at the rally as well. He is contesting Lok Sabha elections from Amethi as well as Wayanad parliamentary constituency.
Rahul Gandhi has often come to be portrayed as somewhat an outsider in politics. He is often described as a 'reluctant politician'.  His opponents have been brutal in describing him.
Priyanka Gandhi's words were in an apparent reference to this.
PG Vadra in Wayanad: I stand here on behalf of a man who I've known from the day I was born. He'll be your candidate in this election&over last 10 yrs has faced massive personal attack from his opponents. They've sought to portray a character of his which is very far from truth. pic.twitter.com/wpzT5Iki3I

— ANI (@ANI) April 20, 2019
Though the Congress registered spectacular victories in Rajasthan, Madhya Pradesh and Chhattisgarh during assembly elections last year, a prolonged phase before that saw the party suffering defeat after defeat in elections on all levels. Even before he became president of the Congress, Rahul Gandhi's image took beating several times when the party suffered electoral defeats after him being projected as the leader-in-charge of the poll campaign.
This led to political analysts accused him of political ineptitude. Among his opponents and on social media, Rahul Gandhi was called ''pappu". An epithet which perhaps became a dig for his apparent inability to steer the Congress to victory.
Even Narendra Modi, in his public rallies before 2014 elections, targeted Rahul Gandhi by calling him a "Shahzada" many a times. "Naamdaar" is another such word used to describe Rahul Gandhi.
Amethi will go to polls on May 6 in the fifth phase of the elections while Wayanad is due to give its electoral verdict on April 23 in third phase.
Also Read | Not confirming or denying anything: Rahul on Priyanka Gandhi's speculated candidature from Varanasi
Also Read | Priyanka Gandhi Vadra holds strategy meeting in Amethi, welcomes new entrants in Congress
Watch | BJP's Sadhvi Pragya clarifies her remark on Hemant Karkare