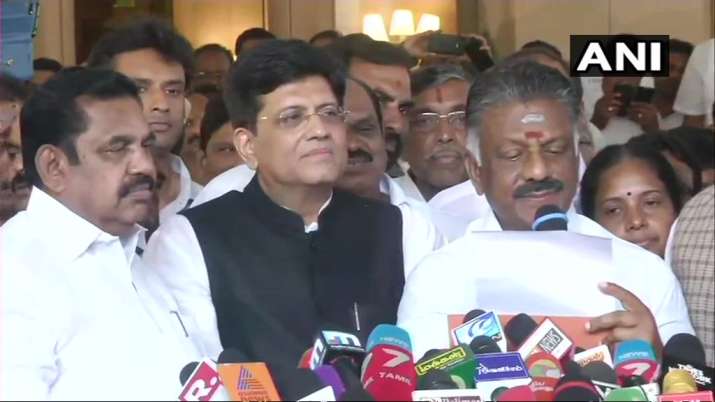 The Bharatiya Janata Party (BJP) and the All India Amma Dravida Munnetra Kazhgam (AIADMK) today announced their tie-up for the 2019 Lok Sabha elections. The BJP will get 5 out of the 39 Lok Sabha seats in Tamil Nadu while the AIADMK and others will get the rest. The BJP had won just one seat in the 2014 Lok Sabha elections. Pon Radhakrishnan, who won on a BJP ticket from Kanyakumari in 2014, went on to become a union minister.
On Tuesday, the two parties also agreed to a seat-sharing formula for the upcoming by-elections in the state. "We will support AIADMK in the by-elections on 21 assembly seats in Tamil Nadu. We have agreed to contest elections in the leadership of OPS and EPS in the state and in the leadership of Modi Ji in the centre,"  Piyush Goyal, BJP's election in-charge for Tamil Nadu said.
Goyal also said that the BJP will contest on five seats in Tamil Nadu during the 2019 general elections. The two parties will fight the polls together in Tamil Nadu and Puducherry. 
Also read | Shah-Thackeray seal the deal; BJP to fight on 25 seats in Maharashtra, Shiv Sena gets 23
The announcement came after the second and final round of discussions held in Chennai today. Tamil Nadu Chief Minister K Palaniswami was also part of the final discussion. 
Earlier in the day, the AIADMK clinched a deal with the PMK, offering the Vanniyar-based party seven out of 40 seats, including one in the neighbouring union territory of Puducherry.
This will be the first real test for the AIADMK after the death of its leader J Jayalalithaa. For the first time, the party would be contesting without the charismatic leadership of its founder J Jayalalithaa. Meanwhile, reports coming out from Chennai suggest that the DMK and the Congress Party will also go together. The two parties are also likely to announce the seat-sharing formula anytime soon. 
On Sunday, actor-turned-politician Rajinikanth also made it clear that his party won't contest the next Lok Sabha elections 2019. Rajinikanth also warned any party from using his name or photo during the elections.