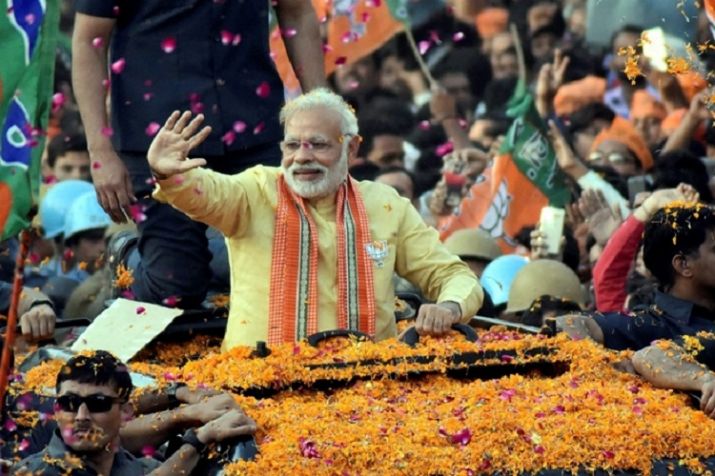 Narendra Modi is the "favourite" prime ministerial candidate of Muslims for next year's Lok Sabha polls as he sees all 132 crore people of the country just as Indians, while other parties count them as a vote bank, senior BJP leader Shahnawaz Hussain said on Sunday. 
He also said the faith in PM Modi among Muslims had increase, especially the women. 
"The favourite prime ministerial candidate for Muslims in the 2019 polls is Narendra Modi, because he sees all 132 crore people of the country just as Indians. Other parties have seen them as a vote bank," Hussain said.
Muslims account for around 14 per cent of India's 130 crore population and the community plays a key role in the electoral outcome in a sizeable number of Lok Sabha seats in Uttar Pradesh, Assam, Bihar, West Bengal, Jharkhand, Karnataka, Kerala and Jammu and Kashmir.
Hussain accused Congress of doing "injustice" to the Muslim community in the country, and said it was responsible for their poverty and backwardness.
"Some people in 2014 used to scare others using Narendra Modi's name. Today, a large number of people from the Muslim community also feel that he is a man who works day and night. Narendra Modi treats all 132 crore Indians alike," he said.
Other parties used to take votes from Muslims by spreading the "fear" of Modi and the Bharatiya Janata Party (BJP) and the prime minister had taken out that fear, Hussain said.
Now they see that Modi is in power but there is no problem, the BJP leader added.
Not a single statement was made by Modi against Muslims, he said, adding that the prime minister's "shamshan-kabristan" statement in the run-up to the Uttar Pradesh Assembly polls last year was "wrongly interpreted" as he had advocated taking care of both.
"In our party, some people may be making (certain) statements, but Muslims have full faith on the statements made by BJP chief Amit Shah and Prime Minister Narendra Modi," the former Union minister said.
"Our party president and our prime minister have never given any statement that would hurt Muslims," he claimed, asserting that the community would back the saffron party big time in the 2019 general election.
Hussain also said Allahabad's name was changed to Prayagraj as "injustice" was done in the past" and now, "justice" had been restored.
"The earlier name was Prayagraj that was changed. To correct that mistake, is it wrong?
"Earlier also, Bangalore's name was changed to Bengaluru, Madras was changed to Chennai. So, how does history come into this," he said, rebutting the Congress's charge that the Modi government was trying to rewrite history.
On the Ram temple issue, Hussain said for the BJP, it was a matter of faith and not a poll plank.
"From October 29, there will be day-to-day hearing (in the Supreme Court). We are hopeful that this issue will be resolved soon and it will be acceptable to all the people in the country.
"Some people are also demanding that a law be made (for the construction of the temple). Everybody has a right to demand, how can anybody stop that? The government has the right to decide and it has not taken any decision in this regard," he said.
Talking about the upcoming Assembly elections in five states, the BJP spokesperson exuded confidence that his party would win in Madhya Pradesh, Rajasthan and Chhattisgarh.
"In Mizoram, the government will not be formed without our support and in Telangana, we will emerge as a big party," he claimed.
Hussain also asserted that the BJP, the Janata Dal (United), the Lok Janshakti Party and the Rashtriya Lok Samta Party will fight the Lok Sabha polls in Bihar together.
He said the alliance with the Nitish Kumar-led JD(U) had boosted the National Democratic Alliance's (NDA) prospects in Bihar and the coalition was focussed on "Mission 40" -- to win all the Lok Sabha seats in the state.
Asked if anti-incumbency would be a factor in Bihar, Hussain said, "I had lost from Bhagalpur by 8,000 votes and Nitish Kumarji's candidate was third, getting 1,60,000 votes. Now those votes will be added to the BJP's kitty...we will fight together and this time, it is Mission 40 -- that we win all the 40 seats."
He also claimed that issues such as rising petrol and diesel prices will not hamper the BJP's poll prospects, saying the people were aware that the fuel problem was a global one.
The Modi government will come to power with a bigger mandate in 2019, Hussain asserted.
(With PTI inputs)