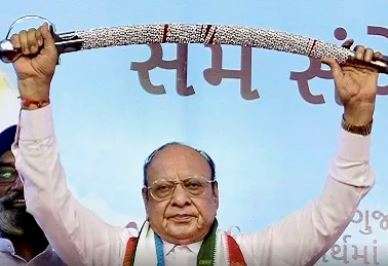 Lok Sabha elections 2019: Just seven months before the LS polls 2019, former Gujarat Congress leader Shankersinh Vaghela expressed his desire to play the role of a coordinator between regional parties to forge an anti-Bharatiya Janata Party (BJP) alliance.
"My supporters are of the opinion that I should play the role of a coordinator to unite various regional parties which are against the ruling BJP. Even I felt that better coordination is needed between parties," news agency PTI quoted the former Gujarat chief minister, as saying, in Gandhinagar, on Tuesday.
He also said that the anti-BJP votes must never get divided.
Catch all the latest news about Lok Sabha elections 2019 HERE
It is pertinent to mention here that Vaghela's son Mahendrasinh Vaghela recently joined the BJP. He was a Congress MLA till 2017. 
After the Rajya Sabha (RS) polls last year, the Kshatriya strongman had quit the Congress and floated 'Jan Vikalp', a third front, ahead of the 2017 state elections. However, all the 100-odd candidates of the Vikalp lost the polls.
During the RS polls in August 2017, Vaghela along with seven other Congress MLAs had reportedly cross-voted in favour of the saffron party candidate and then resigned from the Congress.
Despite the cross-voting, Congress candidate Ahmed Patel narrowly won the election by defeating BJP nominee Balwantsinh Rajput.
(With PTI inputs)