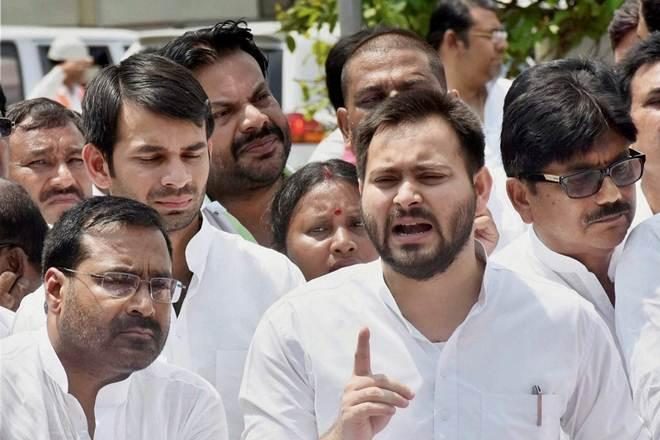 Lok Sabha elections 2019: RJD leader and younger son of Lalu Prasad Yadav, Tejashwi Yadav on Monday skipped the question when he was asked that who will be the PM face of the grand alliance. Despite being repeatedly asked by the scribes he ignored the question. 
"All opposition parties will decide together on the name of PM candidate," Tejashwi Yadav said. To keep BJP out of power in the Lok Sabha elections 2019, Congress party is trying hard to form a grand alliance. 
Congress president Rahul Gandhi has already said that a group will be formed to take a call on alliances in the run-up to Lok Sabha elections.
"We are setting up a group to do it," Gandhi told reporters on Sunday after a meeting of Congress Working Committee, the party's highest decision-making body, which authorised him to decide on pre and post-poll alliances. 
Catch all the latest news about Lok Sabha elections 2019 HERE
The party's decision is being seen as an unambiguous message to all present and potential allies that he will take all crucial decisions for the 2019 Lok Sabha polls including on seat sharing. 
Some leaders, including Trinamool Congress leader Mamata Banerjee, are learned to have more comfort level in interacting with Rahul Gandhi's mother Sonia Gandhi, who is UPA chairperson. 
Sonia Gandhi had hosted a dinner for like-minded opposition parties in March this year to explore the possibility of forging a broader unity. Earlier, she had taken the initiative to bring senior opposition leaders together to put up a common candidate in Presidential and Vice-Presidential elections. 
On the other hand, the Iftar he hosted was skipped by most opposition stalwarts. 
The CWC decision is being seen as an indication that Rahul Gandhi should emerge as the face of larger opposition in the 2019 electoral battle. 
Alliances are crucial for the Congress to defeat the BJP, which won a majority on its own in the 2014 Lok Sabha elections and has since won several state assembly polls. 
WATCH VIDEO: Aaj Ki Baat with Rajat Sharma | July 23, 2018

(With inputs from agencies)