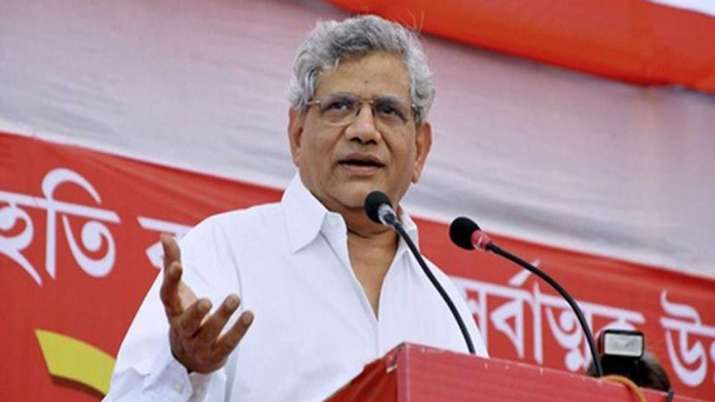 Lok Sabha elections 2019: The Communist Party of India-Marxist (CPI-M) General Secretary Sitaram Yechury on Wednesday termed the idea of holding simultaneous polls to the Lok Sabha and the state assemblies as "inherently anti-democratic". 
In a letter to the Law Commission he said it "negates the principles of federalism which is a fundamental feature of India's Constitution". Yechruy also turned down the Law Commission's invitation for a personal discussion on the matter.
"I am writing to you in response to your letter of June 14, 2018 where you have sought the opinion of Communist Party of India-Marxist (CPI-M) on the issue of holding simultaneous elections. The basic objection to the concept is that it is fundamentally anti-democratic and strikes at the root of the parliamentary democratic system as ordained in the Constitution," Yechury said in his letter.
He said the process would entail major amendments to the Indian Constitution which would run "against both the letter and spirit" of the Constitution.
"There is no fixity of tenure enshrined in the Constitution either for the Lok Sabha or for the state legislatures. Both Article 83 (2) and Article 172 (1) specify that the term of the Lok Sabha and the legislative assembly will be for five years 'unless sooner dissolved'. Any attempt to prolong the life of the Lok Sabha or legislature will be not only unconstitutional but anti-democratic," the letter read. 
The Law Commission has invited all the national and recognised state political parties to hold consultations on July 7-8 on the practicality of conducting simultaneous polls to Lok Sabha and state legislatures.
The Commission has prepared a draft paper on "Simultaneous Elections - Constitutional and Legal Perspectives" and has sought opinions of "all stakeholders" including political parties, constitutional experts, bureaucrats, academia etc on the paper before finalising its report and sending it to the government.
However, it has not elicited a response from political parties like the Congress, the Trinamool Congress, the Bahujan Samaj Party and the Nationalist Congress Party. All of them are in opposition.
(With IANS inputs)