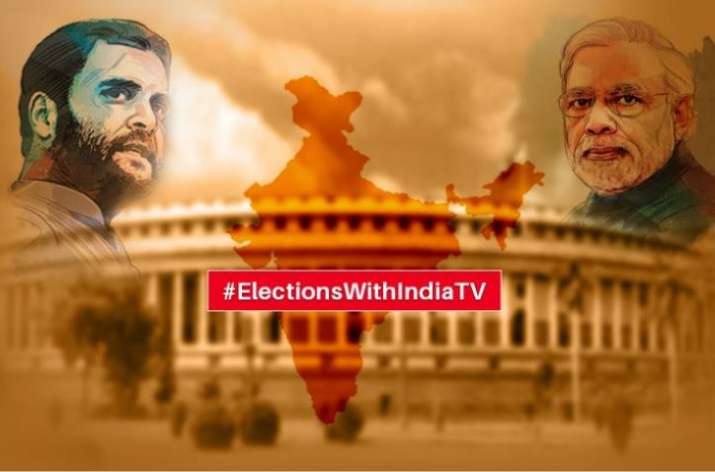 The heat is on again after a respite of a few days. Biggest elections on the planet enter the fifth phase on May 6. The game is old but now the players are big. For Congress, two of their biggest leaders are in the ring. Congress president Rahul Gandhi and UPA chairperson Sonia Gandhi will defend their family seats of Amethi and Raebareli respectively. From the BJP, Union Ministers Rajnath Singh and Smriti Irani are getting ready for the big showdown. Rajnath Singh will defend Lucknow while Irani will challenge Rahul Gandhi in Amethi just like she did in 2014 Lok Sabha elctions.
51 seats are up for grabs across 7 states in the fifth phase of Lok Sabha elections 2019. Elections are being held in Uttar Pradesh (14 seats), Bihar (5 seats), Jammu & Kashmir (2 seats), Jharkhand (4 seats), Madhya Pradesh (7 seats), Rajasthan (12 seats) & West bengal (7 seats) today.
The BJP had bagged 40 of these 51 seats during 2014 Lok Sabha elections while the Congress had got reduced to just 2.
Constituencies that go to polls in fifth phase of Lok Sabha elections 2019:
Uttar Pradesh: Amethi, Raebareli, Fatehpur, Banda, Kaushambi, Faizabad, Barabanki, Lucknow, Mohanlalganj, Sitapur, Dhaurahra, Bahraich, Kaiserganj, Gonda
Bihar: Madhubani, Muzaffarpur, Hajipur, Saran, Sitamarhi
Jammu & Kashmir: Anantnag (Shopian and Pulwama), Ladakh
Jharkhand: Ranchi, Kodarma, Khunti, Hazaribagh
Madhya Pradesh: Damoh, Khajuraho, Satna, Rewa, Hoshangabad, Betul, Tikamgarh
Rajasthan: Alwar, Churu, Junjhunu, Bikaner, Sikar, Jaipur Rural, Jaipur, Bharatpur, Karauli-Dholpur, Ganganagar, Dausa, Nagaur
West Bengal: Barrackpore, Bangaon, Howrah, Uluberia, Hooghly, Sreerampur, Arambag
Key contests in Lok Sabha election 2019, Phase 5:
Amethi (Uttar  Pradesh):
Key contestants: Rahul Gandhi (Congress), Smriti Irani (BJP)
BJP's Smriti Irani is challenging Congress president Rahul Gandhi in Amethi yet again. Amethi is the traditional seat of the Gandhi family and is considered secure.
However, Rahul Gandhi's victory margin came drastically down to just 10 per cent when SmritI Irani contested against him in 2014. Before 2014, Congress' victory margin has almost always been upwards of 50 per cent of the votes polled. 
Also, Lok Sabha elections 2019 will see Rahul Gandhi simultaneously contest on two seats for the first time. In addition to Amethi, Rahul Gandhi is contesting from Wayanad in Kerala. Wayanad is considered to be a secure seat for Congress. 
Read | Not Modi, people are responsible for growth: Rahul Gandhi
Rae Bareli (Uttar Pradesh)
Key contestants: Sonia Gandhi (Congress), Dinesh Pratap Singh (BJP)
Sonia Gandhi will defend Raebareli, another seat of the Gandhi family. She is pitted against Dinesh Pratap Singh. Sonia Gandhi has won the seat with a victory margin of at least 40 per cent in last three Lok Sabha elections.
Lucknow (Uttar Pradesh)
Union Home Minister Rajnath Singh is looking to get re-elected from Lucknow. He will fight against Shatrughan Sinha's wife Poonam Sinha and Congress' Pramod Krishnam
Read | Sonakshi Sinha holds road show for mom Poonam Sinha in Lucknow
Saran (Bihar)
Key contestants: Rajiv Pratap Rudy (BJP), Chandrika Rai (RJD)
Former Union Minister Rajiv Pratap Rudy is a BJP spokesperson and has a bigger national profile as compared to Chandrika Rai of the Rashtriya Janata Dal (RJD). The seat has been a traditional stronghold for the RJD. 
Rai, the estranged father-in-law of RJD chief Lalu Prasad's elder son Tej Pratap, has good connections at the grassroot level. Rabri Devi, the wife of Lalu Prasad who is presently in jail in connection with the fodder scam case, had lost to Rudy in the 2014 elections. Lalu Prasad had also won from here before and the seat is a prestige battle for the RJD.
Ladakh (J&K)
Key candidates: Jamyang Tsering Namgyal (BJP), Rigzin Spalbar (Congress), Sujjad Hussain (Independent), Haji Asgar Ali Karbalai (Independent)
The seat was won last time by BJP's Thupstan Chhewang who defeated Independent candidate Gulam Raza by just 36 votes. Chhewang, however, resigned from the party accusing it of not fulfilling the promises made to the people of Ladakh. 
BJP candidate Tsering Namgyal is the Chief Executive Councillor (CEC) of the Ladakh Autonomous Hill Development Council (LAHDC). Independent candidate Sujjad Hussain is being supported by the National Conference (NC) and the Peoples Democratic Party (PDP), both of which have not fielded any candidate from here.
Hazaribagh (Jharkhand)
Key contestants: Jayant Sinha (BJP), Gopal Sahu (Congress)
Union Minister and sitting BJP MP Jayant Sinha is facing a tough battle in this seat. His father, former Finance Minister Yashwant Sinha, is no longer in the BJP. Jayant Sinha had told the voters after filing his nomination that if they voted for him, they will get two more important leaders for free -- his father and Prime Minister Narendra Modi. 
The Congress forming an alliance here with the Jharkhand Mukti Morcha (JMM) and the Jharkhand Vikas Morcha (Prajatantrik) has mounted the pressure on Sinha. 
Jaipur Rural (Rajasthan)
Key contestants: Rajyavardhan Singh Rathore (BJP), Krishna Poonia (Congress)
It is a riveting contest between two Olympians. Union Minister and sitting BJP MP Rajyavardhan Singh Rathore is an articulate leader whose profile has grown in the Narendra Modi government. 
Rathore, the ace shooter who has an Olympic silver medal to his name, will face a formidable opponent in Congress' Krishna Poonia, a discuss thrower whose best showing was a sixth-place finish at the 2012 London Olympics. 
While Poonia, a sitting MLA from Sadulpur, is talking about the welfare measures being undertaken by the Ashok Gehlot-led Congress government in Rajasthan in the last four months, including farm loan waiver, Rathore is talking about the works done by the Narendra Modi-led government at the Centre.
Nagaur (Rajasthan)
Key contestants: Hanuman Beniwal (Rashtriya Loktantrik Party, an ally of BJP), Jyoti Mirdha (Congress)
Nagaur has been a traditional Congress stronghold and is the only seat the BJP is not contesting in Rajasthan. While local equations favour Congress' Jyoti Mirdha, a former MP, Hanuman Beniwal of the RLP has strong connect with the youth. His party had won three seats in the Assembly polls held in December last year. 
Like other constituencies in the state, the narrative here is also about Narendra Modi. Mirdha, the grand daughter of prominent Jat leader Nathu Ram Mirdha, had won from here in 2009. The constituency has a sizeable population of Dalits and minorities. 
Barrackpore (West Bengal)
Key contestants: Dinesh Trivedi (Trinamool Congress), Arjun Singh (BJP), Gargi Chatterjee (CPI-M), Mohammad Alam (Congress)
Former Railway Minister Dinesh Trivedi is taking on his erstwhile "election-manager" Arjun Singh, who crossed over to the BJP in March after he was denied the ticket from Barrackpore by the Trinamool leadership. 
Singh's desertion has made cosmopolitan Barrackpore -- an industrial belt with 35-40 per cent non-Bengali voters mostly working in the jute mills and 17 per cent people from the minority community -- an eye-grabbing seat with 15 candidates in the fray.
Trivedi feels he will get the votes for the development works undertaken by the Trinamool Congress government. Singh, on the other hand, said he was "200 per cent sure" of victory as people "hardly knew Trivedi who may finish third". The CPI-M is hoping to emerge as the proverbial dark horse in this seat. 
Hooghly (West Bengal)
Key contestants: Ratna De Nag (Trinamool Congress), Locket Chatterjee (BJP), Pradip Saha (CPI-M) and Pratul Chandra Saha (Congress)
Singur, from where West Bengal Chief Minister Mamata Banerjee launched her anti-land acquisition agitation, is one of the seven Assembly segments under this parliamentary constituency. Ratna De Nag is hopeful that her work and that of the Trinamool Congress government will see her through. Locket Chatterjee, an actor-turned-politician, who is also the chief of BJP's women wing in West Bengal, is putting up a spirited fight in what was earlier a Left bastion.
(with IANS inputs)
Read | 'Karma awaits you': Rahul responds to PM Modi's 'bhrashtachari number 1' remark against Rajiv Gandhi
Read | Why so disturbed: Jaitley questions Rahul Gandhi's distress after allegations against Rajiv Gandhi govt
Watch PM Modi attacks Congress, says Chief Minister of Rajasthan calls me an actor