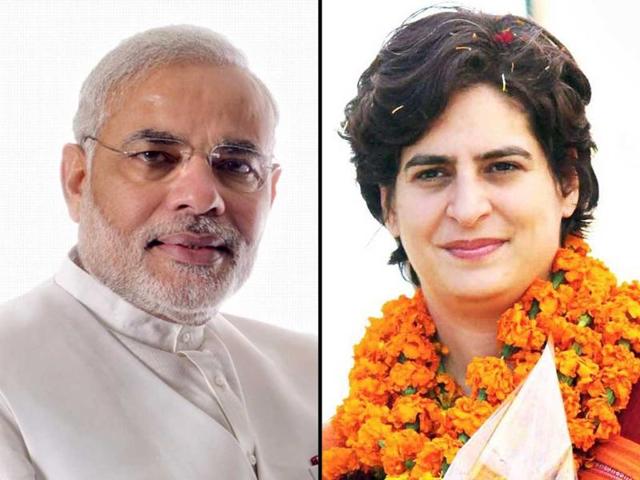 As the Lok Sabha election picks up, the political fervour has taken over the nation. Political parties are in campaign mode at full throttle. The landscape is at a constant change and big developments are expected on a daily basis. From Modi's Chowkidari initiatives to Priyanka's 'Why not Varanasi?' expect the rumour mills to run hard and fast untill the D-Day. Today, Election Commission cleared PM Modi of model code violation; SC said current VVPAT counting system was okay; Priyanka doubled up on her attack against PM Modi; BJP accused Congress of coining the term 'Hindu-terror'. 
Here are the top 10 political developments of March 29
1. Priyanka Gandhi accuses PM Modi of ignoring Varanasi 
Priyanka Gandhi in her rally in Ayodhya accused Prime Minister Modi of ignoring his own constituency of Varanasi. she accused Modi of travelling the world but having no time for the villages of his own constituency let alone the rest of the country. she also says the centre is anti-poor and anti-farmer
2. 2019 will be a mandate for strong and decisive government: PM 
Prime Minister Narendra who began his eastern India campaign from Jeypore in Koraput where he said that in the upcoming Lok Sabha elections the people will once again vote for a strong and decisive government. Modi addressed a series of rallies today, starting from Koraput in Odishia, moving on southwards to  Mahbubnagar, Telangana and Kurnool in Andhra Pradesh.
3. Our manifesto will reflect people's voice, not one man's view: Rahul Gandhi
In an exclusive interview to PTI, the 48-year-old Congress chief said the Congress-led UPA is storming back to power as people have rejected Modi's politics of "false promises". "We want India's voice and aspirations to prosper. We don't believe in one man's voice. We believe in everyone's voice and choices. It requires tremendous discipline and hard work to do, but it works," he said. Congress is set to release its manifesto next week, ahead of the first phase of polling on April 11.
4. Present method of counting VVPAT slips most suitable, EC tells SC
The Election Commission on Friday asserted in the Supreme Court that 21 opposition leaders have been unable to raise any ground for altering the existing system of random counting of the VVPAT slips from one polling booth per assembly segment which was "found to be most suitable" after due studies and tests.
5. BJP slams Congress for term 'Hindu terror'
The BJP cited the Samjhauta train blast case judgment to assert that the probe focussed on establishing the Congress's "political theory of Hindu terror", as it accused the opposition party of "smearing" Hindus on the basis of "forged" evidence for political benefits. Senior BJP leader and Union minister Arun Jaitley also took a swipe Congress leaders, including its president Rahul Gandhi and general secretary Priyanka Gandhi Vadra, over their temple visits, saying those who believed Hindus to be terrorists are now busy showing their dedication to the religion. 
6. Hardik Patel's poll hopes hit a roadblock
Patidar leader Hardik Patel's hopes of fighting next month's Lok Sabha polls on a Congress ticket hit a major roadblock with the Gujarat High Court Friday dismissing his plea to stay his conviction in a 2015 rioting case. Justice A G Uraizee took into account the submissions made by the Gujarat Government while rejecting Hardik's petition seeking a stay on the conviction awarded to him by a sessions court, which was coming into his way to contest the April 23 Lok Sabha polls.
7. Actress Urmila Matondkar will be contesting Lok Sabha election Mumbai North on Congress ticket
Actor turned politician Urmila Matondkar will be contesting election from the Mumbai North constituency on Congress ticket. She will likely go against BJP's Gopal Shetty. Matondkar had joined Congres yesterday. 
8. EC clears Mission Shakti speech over model code of conduct violation allegations
Election Commission has cleared PM Modi's 'Mission Shakti' speech in the case of allegations of model code of conduct violation.  "Committee has reached to conclusion that MCC provision regarding misuse of official mass media as contained in Para (IV) of Part VII of MCC isn't attracted in the case," EC said. CPIM leader Sitaram Yechury had approached the commission seeking an order against the PM for allegedly violating model code of conduct by addressing the nation just before the elections. 
9. Nishad party quits Mahagathbandhan
In a jolt to the SP-BSP-RLD 'Mahagathbandhan' in Uttar Pradesh, the Nishad Party parted ways with the fledgling anti-BJP alliance and said it could "look for other options". "The Nishad Party is no more in alliance with the Samajwadi Party," Nikky Nishad alias Riteash Nishad, media in-charge, Nishad Party said.
10. Massive crowds at Priyanka Gandhi's roadshow in Ayodhya
Priyanka Gandhi today attracted a massive crowd during her roadshow in temple town Ayodhya. In the last leg of her three-day UP tour, Priyanka today addressed rallies, nukkad talks and conducted a roadshow. Her campaign has injected a fresh energy in the Congress cadre, who have now started to pit her against PM Modi for a direct fight in Varanasi. 
Watch full coverage of day's political events at India TV's prime time show Aaj ki Baat with Rajat Sharma: