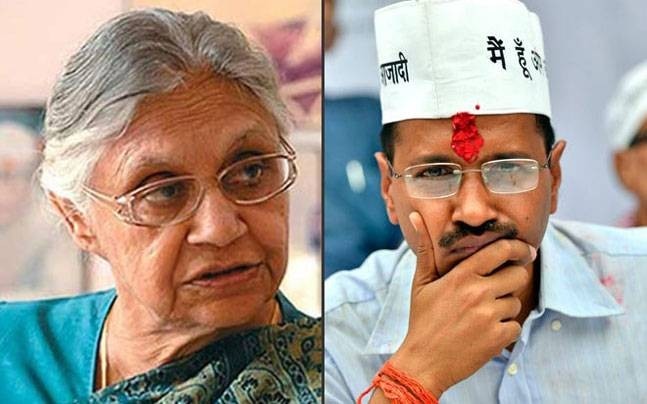 Delhi Chief Minister Arvind Kejriwal on Tuesday accused Congress of being in 'unholy secret alliance with BJP' after the party rejected an alliance with AAP in the national capital for upcoming Lok Sabha elections. 
"At a time when the whole country wants to defeat Modi- Shah duo, Cong is helping BJP by splitting anti-BJP vote. Rumours r that Cong has some secret understanding wid BJP. Delhi is ready to fight against Cong-BJP alliance. People will defeat this unholy alliance," Kejriwal said in a tweet. 
He was reacting to the announcement made by Delhi Congress chief Sheila Dikshit about not forming an alliance with the Aam Aadmi Party. 
"A unanimous decision has been taken that there will be no alliance in Delhi," Dikshit told reporters in New Delhi earlier today.
The announcement by the former Delhi chief minister came following a meeting with Congress president Rahul Gandhi. 
"Congress' final announcement (to contest alone in Delhi) shows that it is hell bent on helping BJP, it seems for them party is bigger than the country. Could it be that Congress has made an unofficial alliance with the BJP?," Gopal Rai, AAP leader told media in New Delhi today. 
Earlier this month, the Arvind Kejriwal-led party had announced candidates for six of Delhi's seven Lok Sabha seats and had also accused the Congress party of refusing for an alliance. 
In the list of candidates announced by AAP, Atishi Marlena has been nominated to contest from East Delhi, Guggan Singh will contest from Northwest Delhi. AAP political affairs committee member Raghav Chadha will contest from South Delhi, while Pankaj Gupta has been nominated to contest from the Chandni Chowk seat. Dilip Pandey and Brijesh Goyal will contest from Northeast Delhi and New Delhi seats respectively.
The party has not yet decided who will contest from the West Delhi seat.
In the 2014 general elections, the BJP had won all seven seats of Delhi. The Aam Aadmi Party, however, has found tremendous support in the national capital. In the 2015 assembly elections, AAP won 67 of Delhi's 70 seats, the Congress drew a blank.
(With inputs from PTI)