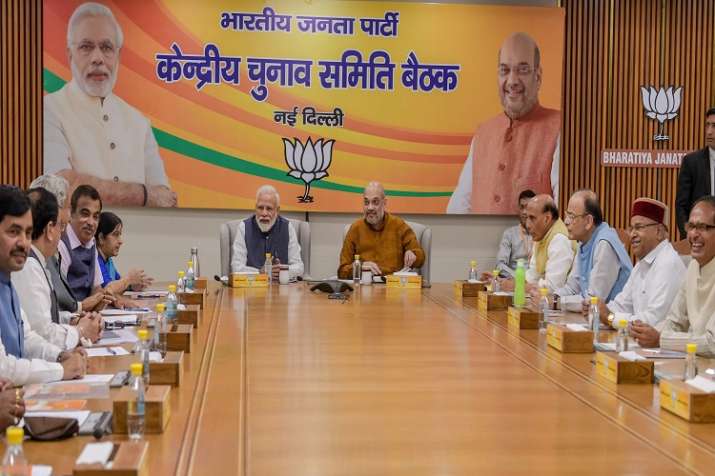 The Bharatiya Janata Party is likely to announce the list of 160 candidates for Lok Sabha Elections due to start from April 11. The party held an 8-hour marathon central election committee meeting on Saturday, which ran until 2:30 am. 
According to sources, the BJP's central election committee discussed tickets for Bihar, Assam, Maharashtra, Uttarakhand, Telangana and Andhra Pradesh. Sources said that the BJP CEC did not discuss seat distribution for Uttar Pradesh. 
The meeting was attended by party chief Amit Shah and Prime Minister Narendra Modi, apart from chief ministers of the states being discussed and other senior leaders. 
Also read | PM Narendra Modi launches 'Mai Bhi Chowkidar' campaign
Here are the LIVE Updates on BJP's first list of Lok Sabha elections:
08:25 am: Here are probable names on the list as per India TV sources:  
Uttrakhand: Former Uttrakhand CM BC Khanduri has been dropped form the list as he has decided to step ut of the race due to age. All other MPs have been given the tickets for their current seats. 
 
Maharashtra: Nitin Gadkari is likely to be fielded from Nagpur Lok Sabha seat. Mumbai North has gone to Poonam Mahajan, Kirit Somaiya will contest from Mumbai Northeast: Sources
Bihar: Ravi Shankar Prasad is likely to replace Shatrughan Sinha at Patna Sahib. RK Singh is likely to contes from RJD bastion Arrah. Ashwini Choubey will contest from Buxar. Ram Kripal Yadav from Patna Rural. Rajiv Pratap Rudy, who defeated Rabri Devi from Saran last year, will contest on his current seat. Bettiah seat has gone to Sanajy Jaiswal. 
Also read | Lok Sabha Elections 2019: What first-time voters want
08:10 am: The list is likely to be issued by the evening today. 
07:30 am: Ravi Shankar Prasad to replace Shatrughan Sinha in Patna Sahib: The BJP is set to drop sitting MP from Patna Sahib Shatrughan Sinha and he is likely to be replaced by Union minister Ravi Shankar Prasad, sources said. Shatrughan Sinha has been critical of the party's top leadership on several occasions in the past.Deliberations continued till late in the night and the name of Rajya Sabha MP R K Sinha was also discussed for the Patna Sahib seat.
07:00 am: The BJP CEC meeting, which started at  7 pm on Saturday, ended at around 2:30 am. Sources say that party's senior leadership discussed the names of 160 candidates and over 100 were finalised. 
Also read | BJP seals alliances in Northeast, aims 22 LS seats
06:30 am: The candidates discussed were for the first two phases of Lok Sabha elections to be held on April 11 and April 18. According to sources, the BJP CEC finalised the list of candidates for Bihar, Assam, Maharashtra, Uttarakhand, Telangana and Andhra Pradesh. 
06:00 am: Today, Amit Shah is expected to hold a meeting with the core group to short list the candidates for selection in West Bengal, Uttar Pradesh and Madhya Pradesh. The final decision for these seats will be taken in the next BJP CEC meeting.