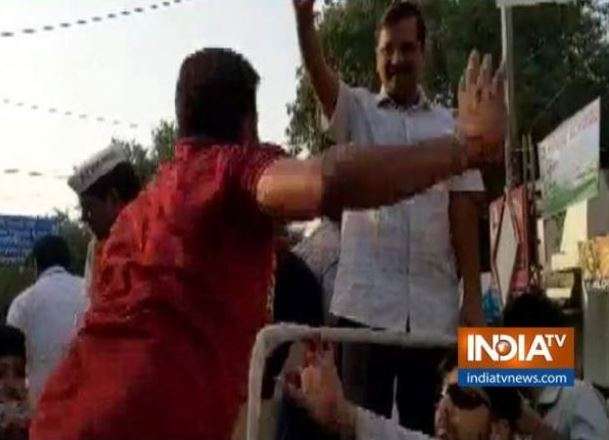 The man accused of slapping Delhi CM Arvind Kejriwal has been sent to two-day judicial custody. ANI reported that Suresh, the accused, has been charged under section 107/51 of the CrPC by the Delhi Police.
Arvind Kejriwal was slapped on Saturday during a road show in New Delhi. The road show was held in Motoi Nagar locality in New Delhi.
On Sunday, Kejriwal put the blame squarely on BJP. 
"It was done at the behest of the BJP," he charged.
Delhi Police said on Saturday that the 33-year-old accused works as a scrap dealer in the area.
This is not the first Arvind Kejriwal was at a receiving end of a slap.
In 2016, a man had thrown a shoe at Kejriwal. Around the same time, a woman had also thrown ink on him at a "thanksgiving" gathering at Chhatrasal Stadium.
In 2014, Kejriwal was slapped by an auto-rickshaw driver during a roadshow in Sultanpuri area of North West Delhi.
Read | BJP responsible for attack on me: Arvind Kejriwal
Video | Arvind Kejriwal slapped during road show