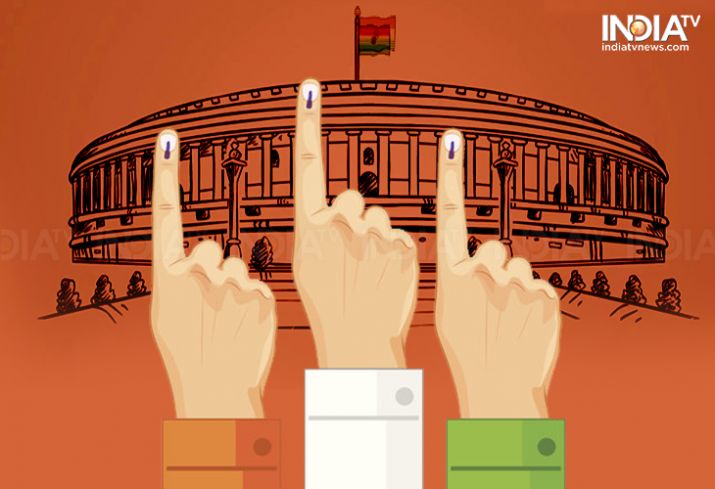 FAQs about elections: When do the polls close?
Most polling booths close by 5 PM. But if a election officer/observer at the booth decides that time needs to be extended, he can do it. 
When do exit polls come?
The Election Commission of India has forbidden media from publishing or broadcasting exit polls until the last phase of polling gets over on May 19.
When can we expect results?
Counting of votes will begin on May 23. 
How and where to follow Lok Sabha Election 2019 
IndiaTVNews.com will be live blogging throughout the entire election period.  India TV will have up-to-the-minute information on results and updates from our correspondents in all the key districts
How to check your name in the voter list ?
Those who want to check their name on the voter list can visit  www.nvsp.in website.
Lok Sabha Election 2019: Here's how you can check your name on the voter list
Step 1: Visit the National Voter Services Portal's (NVSP) Electoral Search Page - electoralsearch.in 
Step 2: Enter basic details such as your name, father or husband's name, state, district, age, date of birth, assembly constituency. 
Step 3: An alternative would be to simply punch in your EPIC number, your electoral photo ID card number. Do mention the state to be able to check your name, polling station and other details on the page. 
Step 4: If the page reflects your details, it may mean that your name is missing from the electoral roll
You can even apply for shifting to a different assembly constituency by filling up Form 6 or apply for corrections in electoral roll entry by filling up Form 8 on National Voter Services Portal.
How to know every detail of the 2019 Lok Sabha elections?
To get every details of Lok Sabha election 2019 click here.
How to check when your Lok Sabha constituency is going to poll?
Check polling dates in your constituency click here.
How to search your name in voter list?
To search your name in voter list click here.
How to search for your polling booth online?
Step 1: Go to the official website of the National Voters' Services Portal (NSVP)
Step 2: Scroll down to search 'Booth, AC and PC' under 'Citizen Information' and click on it
Step 3: Fill in your name, father/husband's name/ state and the CAPTCHA code
Step 4: Your polling booth and other details will appear at the bottom of the page
You can click on 'View Details' to know your polling booth, parliamentary constituency and assembly constituency. Please note that before you search for your polling booth, you must check if your name is in the voter' list.
How to search for polling booth via SMS?
If you have your voter ID, the simplest way to know your polling booth is through an SMS. All you have to do is type EPIC, followed by a space and your voter ID number and send it to 51969 or 166. You will receive a message within a few minutes which will have your polling booth name and its location.
How to download your Voter ID Card online?
Visit the official election website
Click on Form6 to "Apply online for registration of new voter" which will give you an option to apply as a new voter
After you proceed as a new user, you will asked to enter basic details like your name, age, and gender
Please note that you will be asked to enter your residential address, and marital status.
In the next step, you will be asked to enter the details of two people who will vouch for you. You will be asked to enter their personal information and Voter ID details.
Once you have completed all the above steps, you will be asked to attach all the supporting documents like your identity proof and address proof to complete the enrollment process.
You will then get a n application number on your phone and registered email ID.
You can use your application number to check if you Voter ID is ready.
Once it is uploaded in the website, you can click on the "Download" button to get a copy of your newly generated election card.
You can vote from 7 am to 6 pm
The voting time in most of the Parliamentary Constituencies going to polls in the first phase is from 7 am to 6 pm. However, in Left-Wing extremism-affected areas and the North Eastern States, the timings vary.