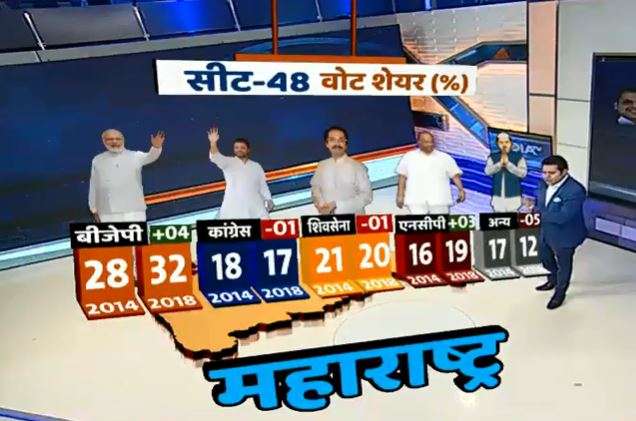 A survey conducted by India TV-CNX clearly indicates that the BJP may make a clean sweep of all 26 LS seats in Gujarat, and the BJP-led NDA may win most of the LS seats in Bihar and Maharashtra, if Lok Sabha polls are held now.
According to the survey conducted between 1st and 14th November in these three states, if there is a pre-poll alliance between BJP and Shiv Sena on one hand, and the Congress and NCP on the other in Maharashtra, the NDA can win 38 out of 48 LS seats, while the Congress-NCP alliance may only win ten seats.
The survey says, if there is no alliance in Maharashtra from either side, the field may be clear for BJP. According to the survey, in that situation, BJP may win 30 seats, Shiv Sena 8, Congress and NCP five each.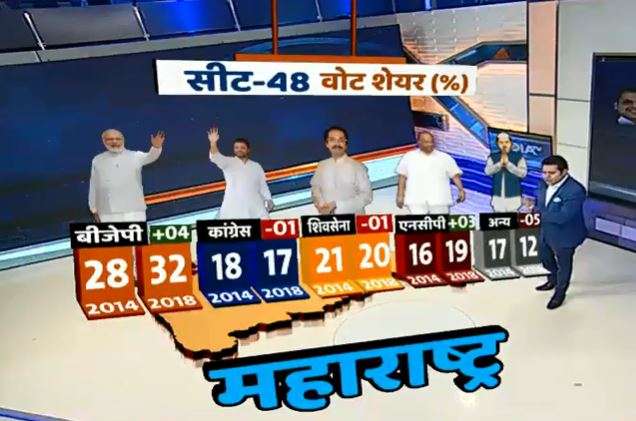 WATCH VIDEO: India TV-CNX Opinion Poll: BJP likely to gain 4 per cent vote share in Maharashtra if LS polls held today
The survey predicts 31.49 per cent vote share for BJP, 20.36 pc vote share for Shiv Sena, 17.10 pc vote share for Congress, 19.45 pc for NCP and remaining 11.6 pc vote share for 'Others'.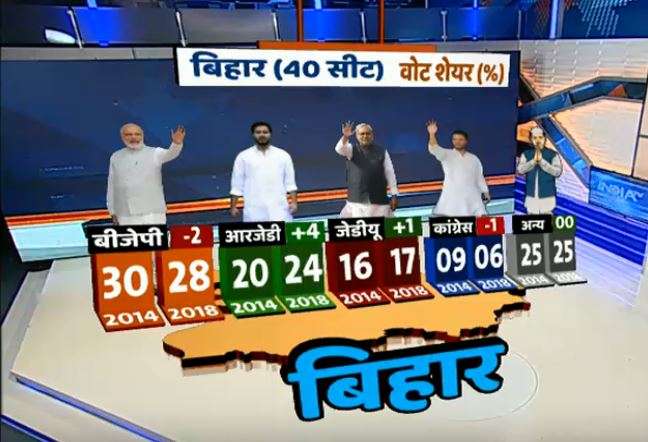 WATCH VIDEO: India TV-CNX Opinion poll: BJP to lose 2 per cent vote share in Bihar if LS polls held today

In Bihar which has 40 LS seats, the NDA consisting of BJP, Janata Dal(United), Ram Vilas Paswan's party LJP and Upendra Kushwaha's party RLSP may win 29 seats, while the RJD and Congress may win only 11 seats, The break-up: BJP 15, JD(U) 9, LJP 3 and RLSP 2. On the other hand, RJD may win 10 LS seats, and the Congress one.
In 2014 Lok Sabha elections, BJP had won 22 and its allies LJP had won six and RLSP had won three seats. On the other hand, the RJD had won four, and the JD(U) and Congress had won two seats each.
This time, the survey predicts 28.35 pc vote share for BJP, 24.38 pc vote share for RJD, 16.77 pc vote share for JD(U), 5.9 pc for Congress, 5.5 pc for LJP, 4.19 pc for RLSP, 0.53 pc for NCP and 14.38 pc for 'Others'.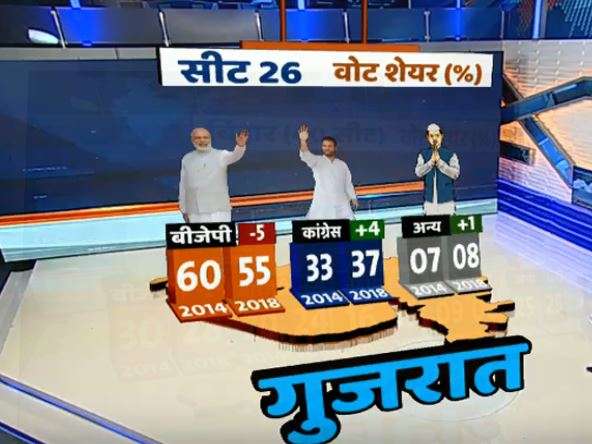 WATCH VIDEO: India TV-CNX Opinion Poll: BJP to lose 5 per cent vote share in Gujarat if LS polls held today

In Gujarat this time, the ruling BJP may win all the 26 seats, identically like 2014 when it had won all the LS seats. The survey forecasts a vote share of 54.93 pc for BJP, 37.2 pc for Congress and 7.87 pc for 'Others'.
Today's telecast by India TV was focussed only on Bihar, Maharashtra and Gujarat, while the results for Punjab, Haryana and Uttarakhand will be telecast later.
The nationwide India TV-CNX opinion poll survey was conducted in 171 parliamentary constituencies across six states. The survey was conducted randomly on 17,100 voters (8732 males and 8368 females) in the age group 18-60 years.
Those interviewed includes people from the lower strata of society like cobblers, tailors, barbers, daily wage labourers, migrant workers, petty shopkeepers, mechanics to middle and higher strata including medical practitioners, real estate dealers, etc. The error percentage has been kept at +/- 2.5 pc.
[ALSO READ]
India TV-CNX Opinion Poll | In Maharashtra, BJP likely to gain 4 per cent vote share if LS polls held today: Survey | Highlights 
India TV-CNX survey: Mahagathbandhan in UP may reduce BJP's strength in LS polls, TMC and BJD will dominate in WB, Odisha
For more details of India TV-CNX opinion poll survey, pl contact Anita Sharma, Managing Editor, India TV +91 98111 9934