Follow us on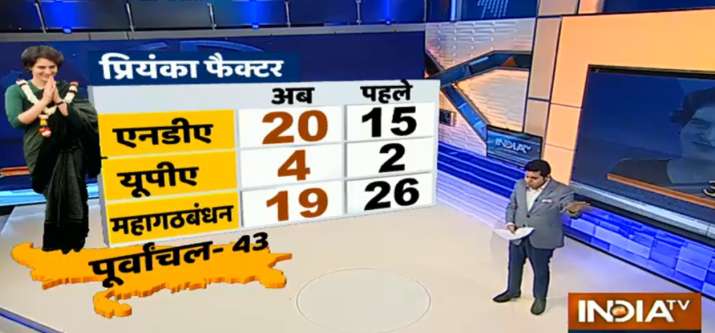 The road to Delhi's 'throne' goes through Uttar Pradesh. Barring a few occasions, party which has won maximum number of Lok Sabha seats from Uttar Pradesh has went on to form government at the Centre. In 2014, the 'Modi wave' swept across the state with the Bharatiya Janata  Party (BJP) winning 71 out 80 Lok Sabha seats.
Can the BJP repeat its 2014 super show in 2019 in Uttar Pradesh or will Congress and Mahagathbandhan (Grand Alliance) of Opposition parties will prove a stumbling bloc? The previous IndiaTV-CNX survey on the state's mood, published in November, BJP stood chance to win a majority figure among UP seats only if no alliance between non-BJP parties materialise. While in all other scenarios, BJP was reduced to 31 or 45 seats. While Congress was likely to win at only two to eight seats under all circumstances. (Read full story)
Also read | Congress general secretary Priyanka Gandhi to sound poll bugle from Lucknow on Feb 11
But the party has now a new ace in the running - Priyanka Gandhi Vadra. India TV has conduced a fresh poll on 43 Lok Sabha seats,  in alliance with CNX, a Delhi based research and survey agency, to gauge the state's mood after Congress party has appointed Priyank Gandhi as the chief of the eastern Uttar Pradesh. 
Here's how Priyanka's entry affected Congress' fate in the state: 
Fresh opinion poll in Uttar Pradesh's Purvanchal region shows reservation for poor in general category and Priyanka Gandhi's induction in Congress have given a boost to BJP and Congress respectively, while giving a setback to SP-BSP alliance.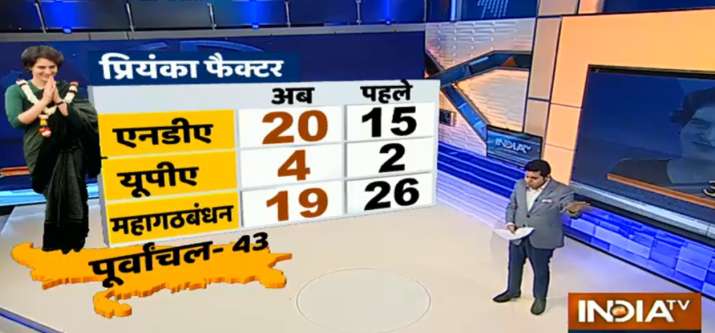 Priyanka Gandhi factor manages to influence voters in Narendra Modi's constituency Varanasi, adds 12 per cent votes for BJP. PM safely in lead.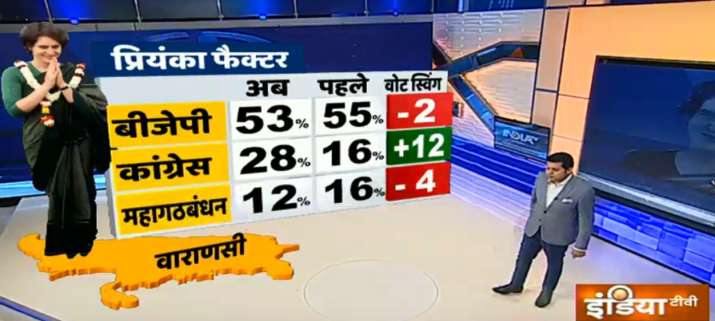 Rahul Gandhi likely to retain Amethi by a small margin, Priyanka factor helps with 2% votes.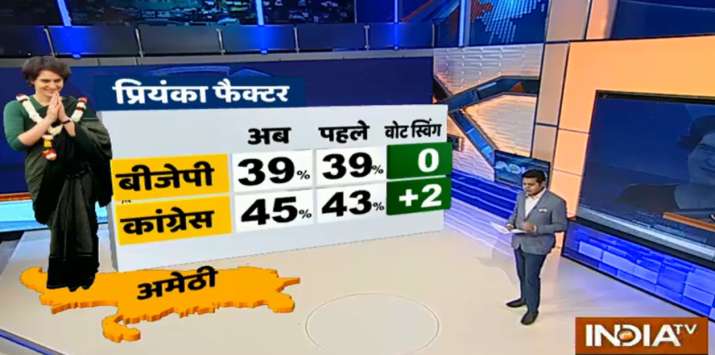 After Gorakhpur, BJP also likely to regain Phulpur seat from Mahagathbandhan. Congress gains 11 per cent vote due to Priyanka factor, still at third position.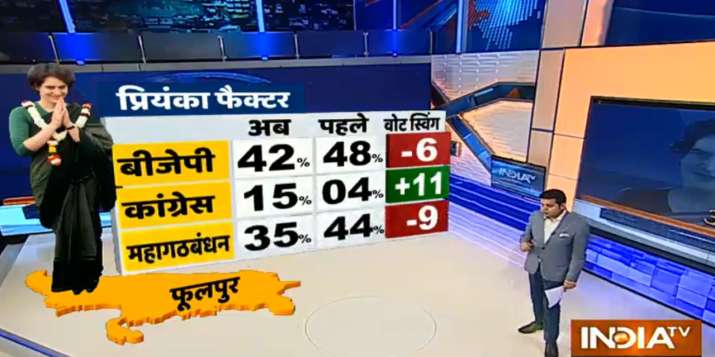 The survey shows Congress clearly benefits from Priyanka Gandhi's entry into active politics, while grand alliance takes a hit. 
Changes in voters mood in northeast region after Priyanka's entry

Changes in voters mood in northeast region after Priyanka's entry
The survey says BSP will lose coveted Gorakhpur seat to BJP but with a small margin of 2%, in such a condition, 1% vote sway induced by Priyanka's entry could raise red flags for BJP.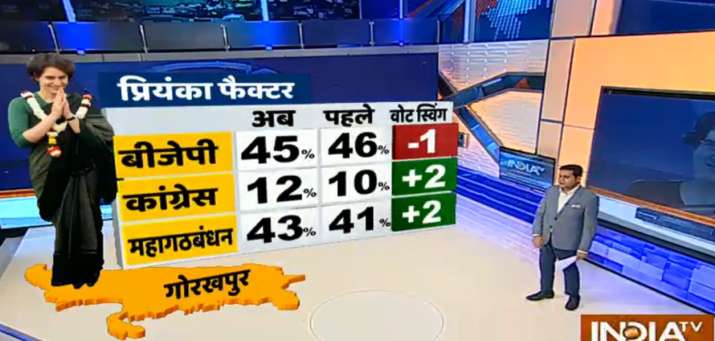 On Sakshi Maharaj's seat in Unnao, Priyanka Gandhi's entry adds 7% votes to Congress' kitty, but party remains third likely to win here in 2019 Lok Sabha Polls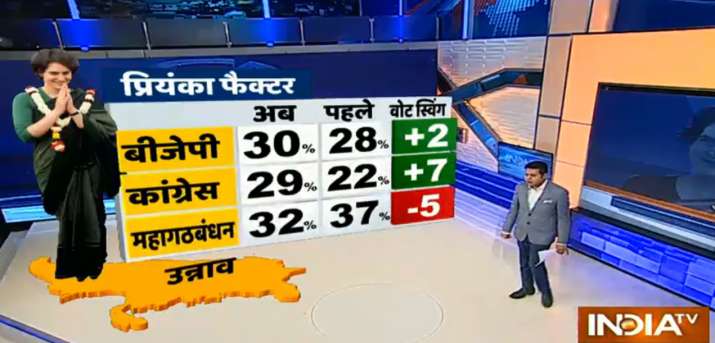 Sonia Gandhi continues to rule hearts of her constituents. 60 per cent voters back Congress in Rae Bareli, an addition of 6% since Priyanka's induction.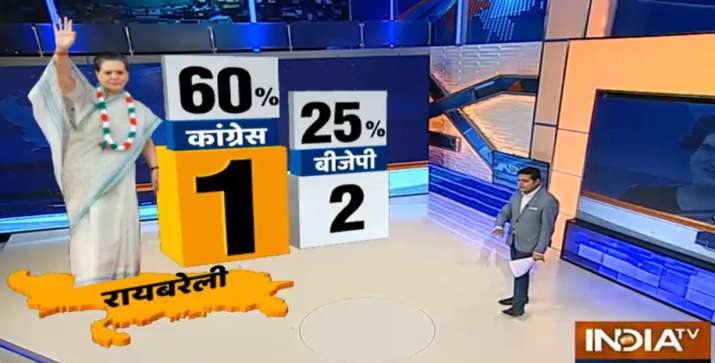 Priyanka factor visible on Barabanki seat as well. Congress adds 17 per cent vote share, but remains at no 2, as BJP's incumbent Priyanka Singh Rawat remains public favourite.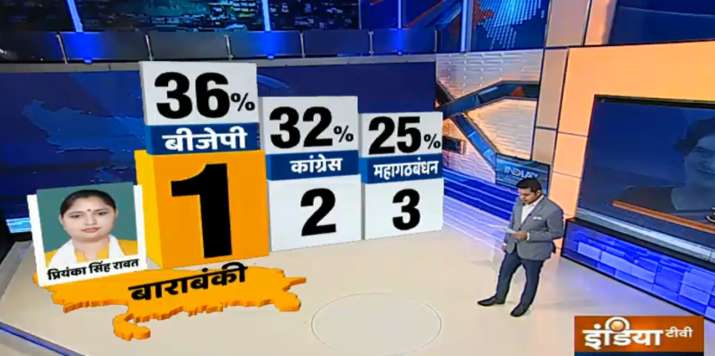 In Pratapgarh, Priyanka's entry has increased the likely vote share on Congress party by 10 per cent, while also adding 4 per cent votes in Apna Dal's kitty.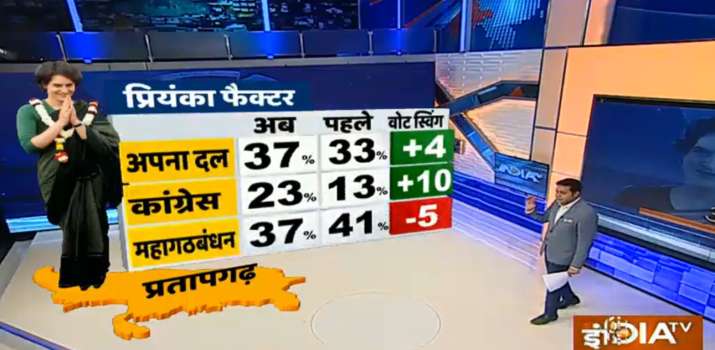 In Rajnath Singh's bastion Lucknow, the ruling party BJP is likely to be remain at the top, Congress come at second spot with 28% voter share, limiting BSP-SP alliance at third spot.