Follow us on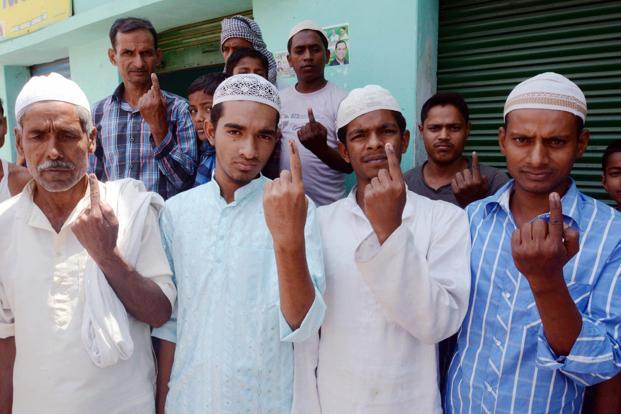 The Narendra Modi magic has failed to sway the hearts and minds of Muslim voters in the country, the India TV CNX Opinion Poll has indicated. According to the first-ever survey on the Muslim vote bank's opinion about Narendra Modi government, the BJP is not the first or even second choice of majority voters form the community. In several states, the BJP scored last, below others in the tally table. 
BJP spokesperson Gaurav Bhatia said that his party has focussed on development and national security and not the politics of appeasement. The spokesperson said that the Modi government's social welfare schemes have benefited the Muslim community most in several regions and its effects will eventually be seen. 
While, AIMPLB member Mehmood Paracha agreed with the survey and claimed that people are fed up of BJP and RSS and will not give them a second chance in next elections. 
According to the Psephologist Bhawesh Jha, the Modi government may done a lot of work for the community but it has failed to change its perception due to anti-Muslim statements by its leaders time and again. 
India TV CNX Opinion Poll on Muslim and Modi highlights: 
#In Bihar (total 40 Lok Sabha seats), only five per cent of the 2 crore Muslims favour BJP, while RJD has support for 45 per cen, JDU 19 and Congress 20. About 11 per cent favoured others.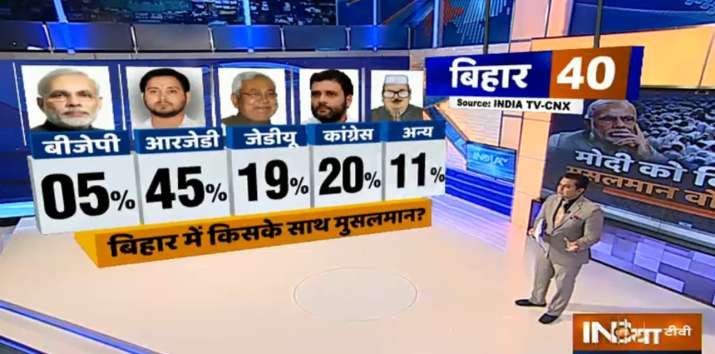 #In Jharkhand (total 14 seats), most Muslims 50 per cent like Congress, 36 per cent choose JMM, JVM is likely to get eight per cent Muslim votes, five per cent may go with others and BJP is likely to get only one per cent votes from the community.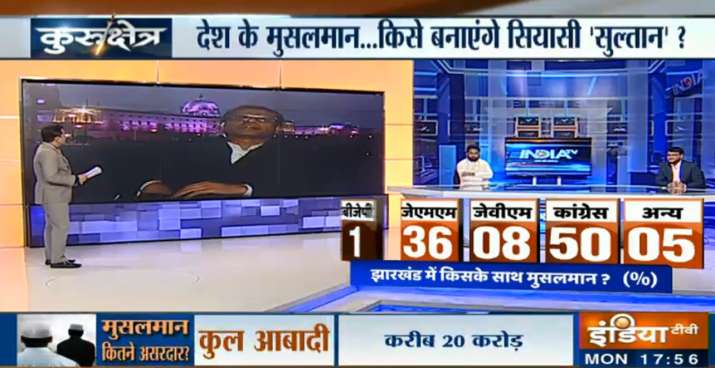 #In Gujarat (total 26 Lok Sabha seats), Only 10 per cent Muslims said that they are likely to vote for BJP, while Congress was backed by 80 per cent. Others may get 10 per cent votes from the community.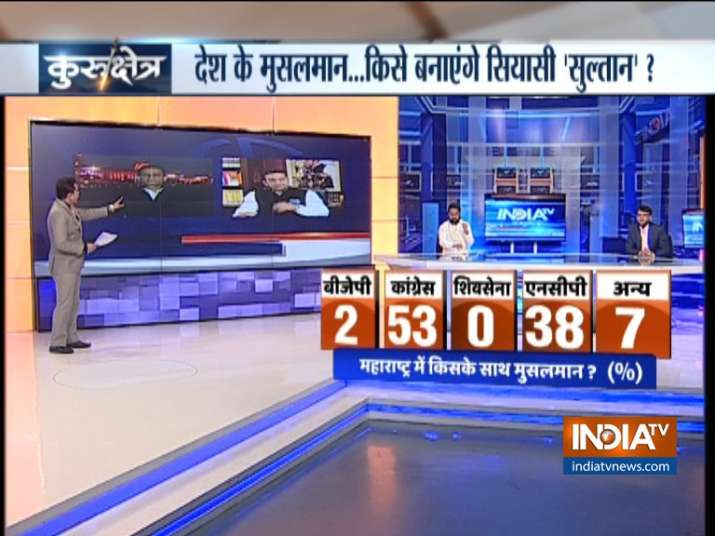 #In Maharashtra (total 48 seats), 53 per cent of Muslim community in Maharashtra stand by Congress, 38 per cent by NCP, BJP 2 per cent, Shiv Sena- zero, Others 7 per cent.
#In Uttar Pradesh (total 80 seats), majority Muslims polled for the survey said that they will back Congress (35 per cent), while a similar 34 per cent said Samajwadi Party was their party of choose, 26 per cent backed Bahujan Sanaj Party, while only three per cent wanted BJP in power. Others mat take two per cent votes.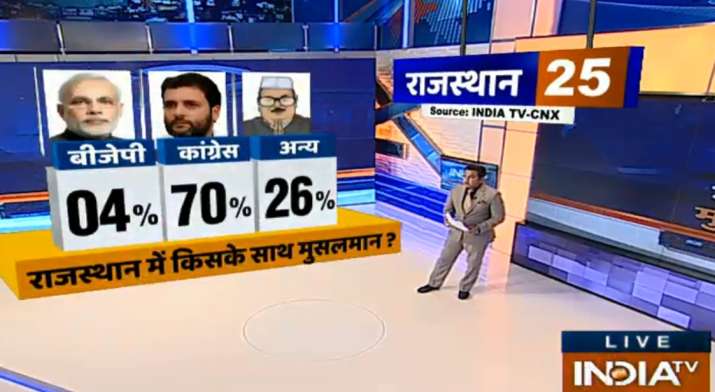 #In Rajasthan (total 25 seats), Congress seems to be the choice of 70 per cent Muslims, while BJP only four. Others got 26 per cent nods in the survey.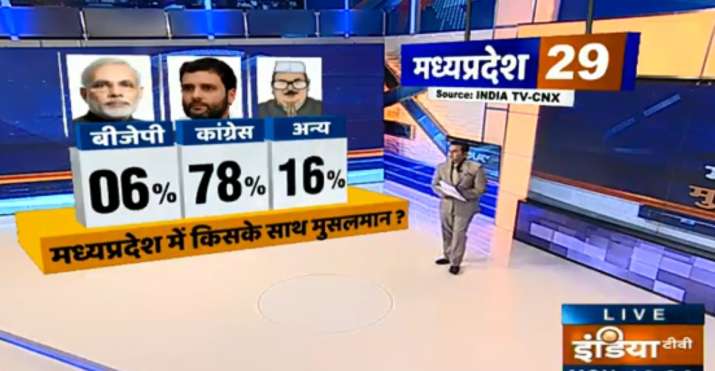 #In Madhya Pradesh (29 Lok Sabha seats), BJP once again faces Muslim vote debacle as 78 per cent back Congress and only six per cent favoured BJP. Others got 16 per cent.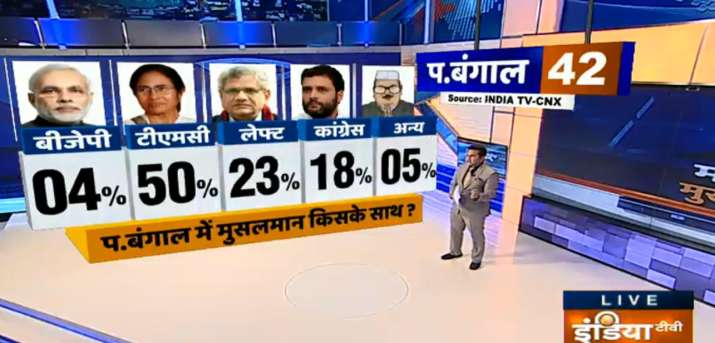 #In West Bengal (total 42 Lok Sabha seats), 50 per cent Muslims polled said they are likely to vote for Mamata banerjee's TMC, 23 per cent supported Left, Congress was first choice of 18 per cent, others five and BJP four per cent.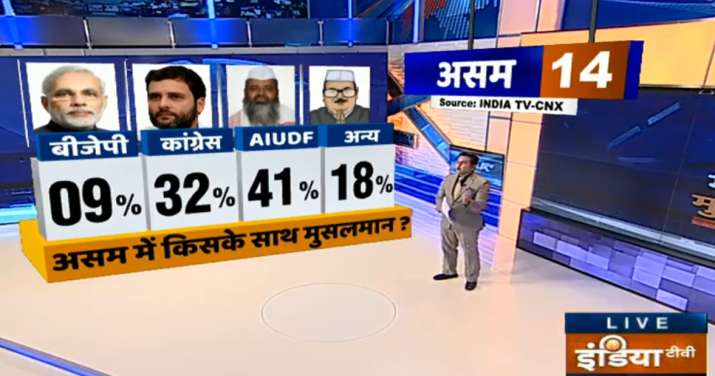 #In Assam (total 14 seats), AIUDF was backed by 41 per cent polled people, Congress by 32 per cent, others 18 and BJP nine per cent.