Follow us on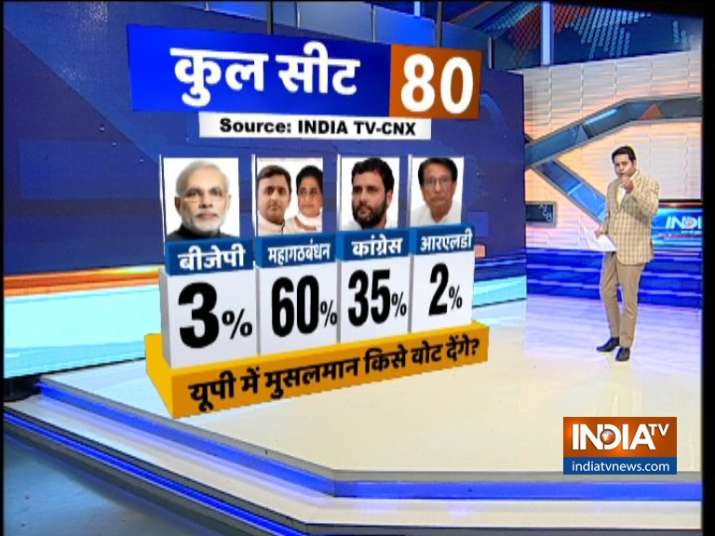 The recently formed alliance between Samajwadi Party and Bahujan Samajwadi Party has become a major hindrance for the Bharatiya Janata Party. The saffron party which won in 73 seats in the 2014 Lok Sabha elections is struggling to get even 30 seats, according to the IndiaTV-CNX Opinion Poll. On the other hand, the SP-BSP alliance is likely to get a whopping number of 49 seats, while Congress are likely to secure Amethi and Rae Bareli seats.
In its latest Opinion poll, where it surveyed how many Muslim population stood by each parties, it was found that only 3 per cent of the total Muslim population in the state stood with the saffron party. While 60 per cent stood with the SP-BSP alliance, 35 per cent supported Congress and 2 per cent supported RLD.
Here are the highlights of the IndiaTV-CNX Opinion Poll:
# If Muslims cannot win in Uttar Pradesh, they hold the power to defeat and make others win. So far Muslim votes were distributed. But now, Muslim will vote for those front which can defeat BJP, says Zafar Sareshwala.
# BJP plays appeasement politics. They talk about Ram temple but never speaks about mosques. Muslims should also receive respect, says BSP leader Naeem Abbas.
# BJP stands by its principle 'Sabka Saath Sabka Vikas'. Our Politics is not based on any religion, says BJP's Nalin Kohli.
# Three per cent of Muslim population favours BJP, 60 per cent supports SP-BSP alliance, 35 per cent supports Congress and 2 per cent supports RLD.
WATCH VIDEO: