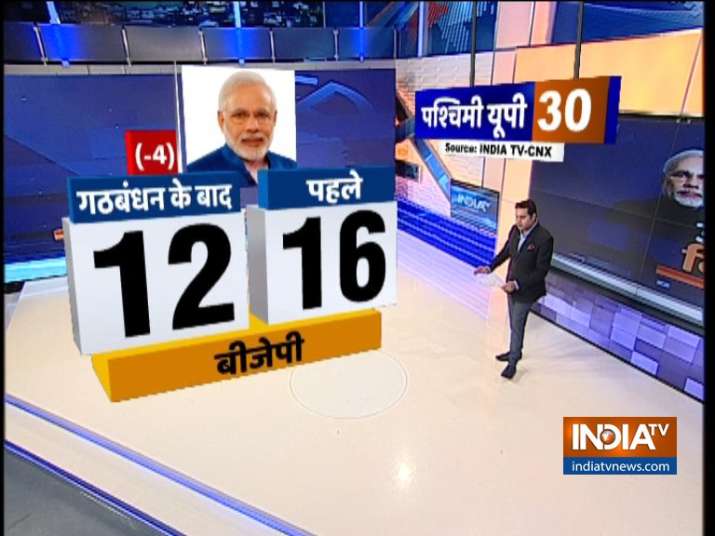 India TV along with CNX has conducted an opinion poll to gauge the mood of Uttar Pradesh ahead of Lok Sabha elections 2019. According to the survey, the Bharatiya Janata Party (BJP) seems to have suffered a loss in their number of seats after the formation of an alliance between Samajwadi Party and Bahujan Samaj Party (BSP). 
After pact between Akhilesh and Mayawati, NDA's 2014 tally of 73 Lok Sabha seats out of 80 may drag down to just 29 in 2019. This points to a major loss of at least 44 seats for the BJP. 
However, Mahagathbandhan seems to have only benefited after the alliance. It is likely to win 49 Lok Sabha seats in 2019 as compared to the previous five seats.
UPA, on the other hand, may only be able to save their Raebareli and Amethi Lok Sabha seats.
PURVANCHAL (32 seats)
# Expected seats for Apna Dal in Purvanchal after SP-BSP alliance: 1
# Expected seats for Apna Dal in Purvanchal before SP-BSP alliance: 1
# Expected seats for Congress in Purvanchal after SP-BSP alliance: 2
# Expected seats for Congress in Congress before SP-BSP alliance: 2
# Expected seats for SP in Purvanchal after SP-BSP alliance: 11
# Expected seats for SP in Purvanchal before SP-BSP alliance: 10
# Expected seats for BSP in Purvanchal after SP-BSP alliance: 7
# Expected seats for BSP in Purvanchal before SP-BSP alliance: 5
# Expected seats for BJP in Purvanchal after SP-BSP alliance: 13
# Expected seats for BJP in Purvanchal before SP-BSP alliance: 16
BUNDELKHAND (4 LOK SABHA SEATS)
# Expected seats for Congress in Bundelkhand after SP-BSP alliance: 0
# Expected seats for Congress in Bundelkhand before SP-BSP alliance: 0
# Expected seats for SP in Bundelkhand after SP-BSP alliance: 2
# Expected seats for SP in Bundelkhand before SP-BSP alliance: 2
# Expected seats for BSP in Bundelkhand after SP-BSP alliance: 2
# Expected seats for BSP in Bundelkhand before SP-BSP alliance: 1
# Expected seats for BJP in Bundelkhand after SP-BSP alliance: 0
# Expected seats for BJP in Bundelkhand before SP-BSP alliance: 1
AWADH (14 LOK SABHA SEATS)
# Expected seats for Congress in Awadh after SP-BSP alliance: 2 (Rae Bareli and Amethi)
# Expected seats for Congress in Awadh before SP-BSP alliance: 2 (Rae Bareli and Amethi)
# Expected seats for SP in Awadh before SP-BSP alliance: 5
# Expected seats for SP in Awadh before SP-BSP alliance: 2
# Expected seats for BSP in Awadh after SP-BSP alliance: 4
# Expected seats for BSP in Awadh before SP-BSP alliance: 3
# Expected seats for BJP in Awadh after SP-BSP alliance: 3
# Expected seats for BJP in Awadh before SP-BSP alliance: 7 
WESTERN UTTAR PRADESH (30 LOK SABHA SEATS)
# Expected seats for RLD in Western Uttar Pradesh after SP-BSP alliance: 2
# Expected seats for RLD in Western Uttar Pradesh before SP-BSP alliance: 2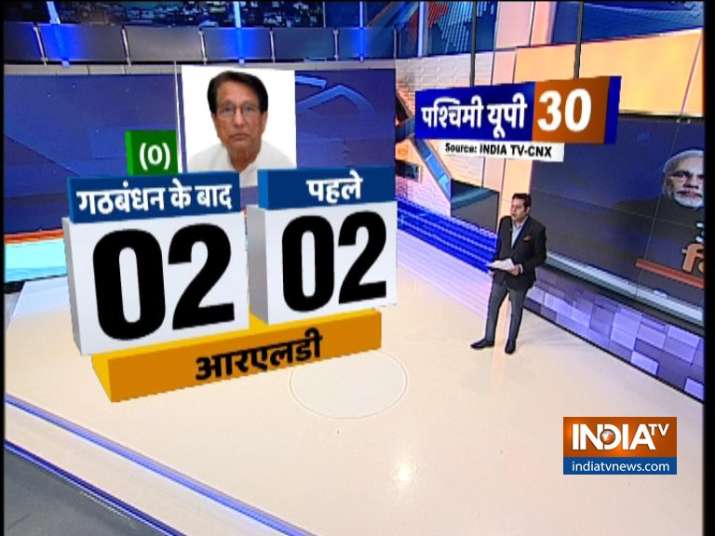 # Expected seats for Congress in Western Uttar Pradesh after SP-BSP alliance: 0
# Expected seats for Congress in Western Uttar Pradesh before SP-BSP alliance: 0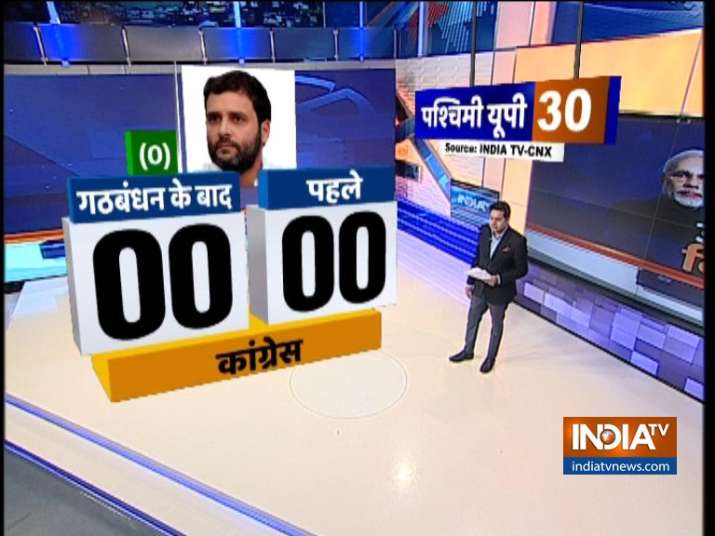 # Expected seats for SP in Western Uttar Pradesh after SP-BSP alliance: 9
# Expected seats for SP in Western Uttar Pradesh before SP-BSP alliance: 6
# Expected seats for BSP in Western Uttar Pradesh after SP-BSP alliance: 7
# Expected seats for BSP in Western Uttar Pradesh before SP-BSP alliance: 6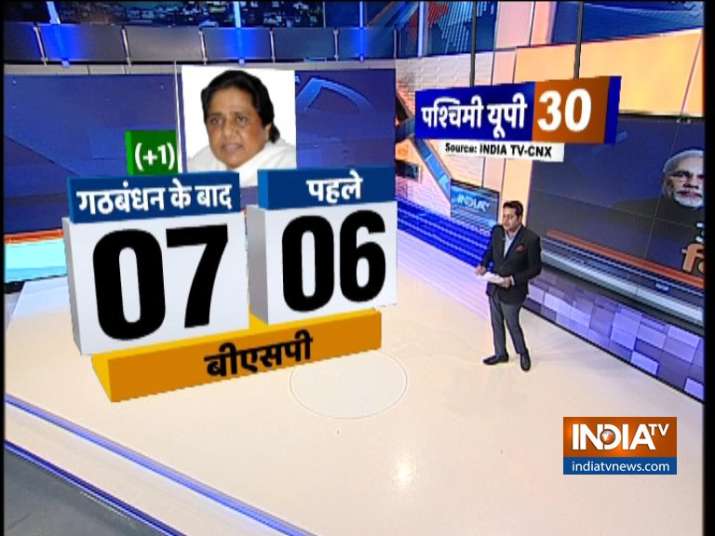 # Expected seats for BJP in Western Uttar Pradesh after SP-BSP alliance: 12
# Expected seats for BJP in Western Uttar Pradesh before SP-BSP alliance: 16
FULL VIDEO: