Follow us on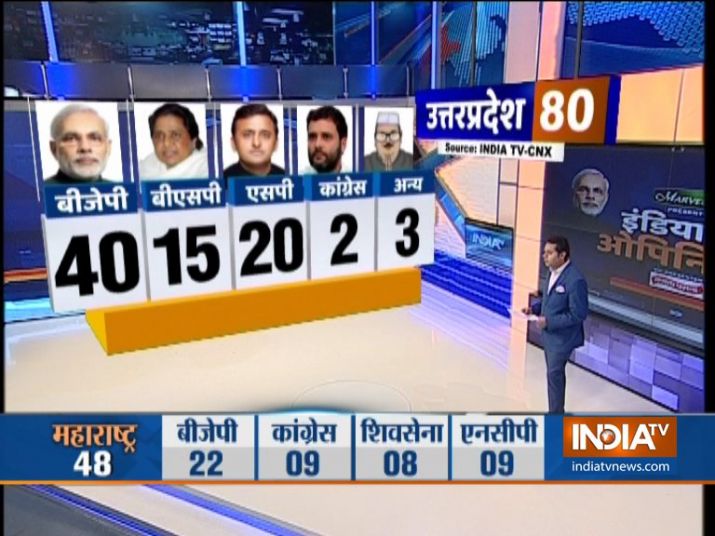 With 80 seats, Uttar Pradesh holds the key in the upcoming Lok Sabha elections in 2019. India TV CNX Opinion Poll for 2019 has predicted a setback for the saffron party this time. The party which had won 71 seats in 2014, may be restricted to just 40 seats this time. This points out at a loss of 31 seats for the BJP even when there is no 'mahagathbandhan' (grand alliance) in the state. The Samajwadi Party (SP) which had failed to open its account in 2014, may get 15 seats this time, predicted India TV-CNX Opinion Poll 2019.
The situation might get worse for the saffron party as the SP and BSP are in talks to form 'mahagathbandhan' in the state ahead of the 2019 Lok Sabha polls. SP chief Akhilesh Yadav and BSP supremo Mayawati met on Friday to finalise details of the alliance between the two parties. However, there is no official announcement yet.
According to sources, the two parties will contest from 37 Lok Sabha seats each.
India TV-CNX Opinion Poll also predicted that the voteshare of the BJP  in Uttar Pradesh may stand at 37%, while BSP, Congress can get 10% each, and Others 11.
BJP secured a thumping win in the  2014 Lok Sabha polls winning 71 of the 80 seats. However, the saffron party suffered embarrassing losses in Gorakhpur and Phulpur LS assembly by-polls.
WATCH VIDEO:
​