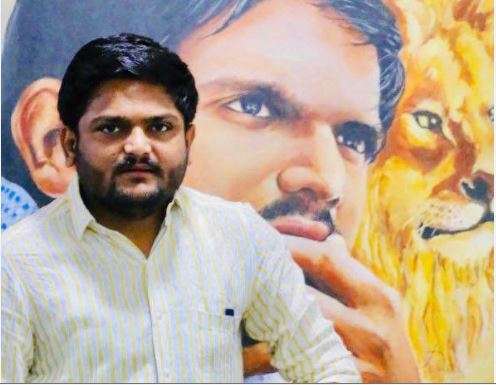 Firebrand young Patidar leader Hardik Patel is all set to join the Congress party in presence of the top brass on Tuesday and is eyeing to the contest the Lok Sabha elections 2019. Since July 2015, Patel spear-headed the Patel reservation agitation. 
"To give shape to my intentions to serve the society and country at large, I have decided to join the Indian National Congress oldest political party of India on 12th March 2019 in presence of its national president Rahul Gandhi and other seniors leaders. I would also like to state that if there is no legal hindrance and party decides to field me in electoral politics, I would abide by the party's decision and contest the elections," said Hardik Patel.
 
"I am taking this step to serve the people of not only Gujarat but 125 crore citizens of India," he added.
 
On Tuesday, the Congress party is all set to kick-start its campaign for the general elections from the home turf of Prime Minister Narendra Modi with a high-powered meeting of its Working Committee and a public rally by its top leaders in Ahmedabad.
In the wake of the Pulwama attack and the subsequent air strikes by India on a terror camp in Pakistan, the high-profile event was postponed.
"It is after 1961, a gap of 58 years, that Gujarat is going to host a meeting of Congress Working Committee. It is also being held to commemorate the anniversary of Mahatma Gandhi beginning a new chapter in India's independence struggle by launching the 'Salt Satyagraha' to Dandi on March 12, 1930," said Congress's state in charge Rajeev Satav.
"Walking in the footsteps of the Mahatma, Congress will launch a new Independence movement to save democracy," he added.
The meeting of the Congress Working Committee, the highest decision-making arm of the party, would be attended by party President Rahul Gandhi, United Progressive Alliance Chairperson Sonia Gandhi, party General Secretary Priyanka Gandhi and former Prime Minister Manmohan Singh, among other senior party leaders.
Giving details of the itinerary, Satav said the leaders would begin their day with a prayer meet at the Gandhi Ashram in Sabarmati and after paying floral tributes to martyrs at a memorial in the city, would proceed to attend the CWC meet at the Sardar Patel National Memorial.
"Later in the afternoon, they would address a massive Jan Sankalp rally with a slogan 'Jai Jawan, Jai Kisan'. It is for the first time that Rahul, Sonia, Priyanka and Manmohan Singh, along with several leaders, would address any public rally," he said.
The party's star campaigner Priyanka Gandhi is expected to make her first public address after being anointed the party General Secretary in-charge of eastern Uttar Pradesh.
WATCH VIDEO:

(With inputs from IANS)