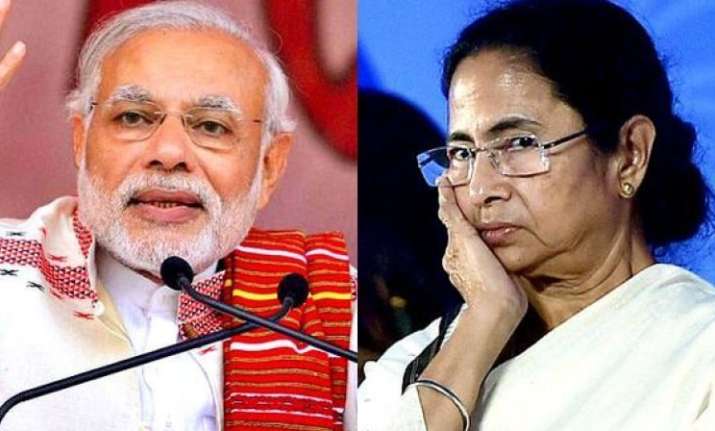 Wednesday saw Prime Minister Narendra Modi and West Bengal Mamata Banerjee training guns at each other while the PM was in the state for his election rallies. From 'Ghunghroo' jibe at his rivals to labelling Mamata Banerjee 'sticker didi', the prime minister launched an all-out attack on the chief minister. 
PM Modi calls Mamata 'sticker Didi'
Prime Minister Narendra Modi took a jibe at the firebrand Trinamool Congress supremo and West Bengal Chief Minister Mamata Banerjee calling her
"sticker Didi" who labels central welfare schemes as those of her own government. Modi had in his earlier poll meetings in the state called Banerjee, who is among his fiercest critics, "speed breaker Didi" for allegedly blocking implementation of central schemes in the state. He often refers to Banerjee as Didi. "Speedbreaker Didi is also sticker Didi. She just puts a sticker on central schemes like free electricity or ration for the people to claim that these benefits are from the state government," he said at a rally at Ranaghat in the border district of Nadia. He claimed that Banerjee has betrayed the people of Bengal, who gave her "so much trust and respect" and the reason why the electorate had voted the Left out of power and supported has not been fulfilled by her yet.
Modi assails rival PM aspirants, says all decked up in 'Ghunghroo' for the hot seat
Modi also took a swipe at his rivals over their prime ministerial ambitions, quipping they were all decked up in "Ghunghroo", the ringing bells worn by dancers on ankles, before occupying the hot seat. The prime minister also took a veiled dig at Congress president Rahul Gandhi, saying people looking at a mirror 10 times a day and aspiring to become PM cannot even win assembly constituencies in their Lok Sabha seat. In an apparent jibe at West Bengal Chief Minister Mamata Banerjee, who has been claiming that she and her Trinamool Congress will play a crucial role in government formation after the general elections, Modi said even leaders whose parties are contesting 20-25 seats, want to become the prime minister. "Sab ghungroo bandhke taiyar ho gaye (everybody is decked up to take the hot seat)," Modi mocked them while addressing an election rally in West Bengal's Kamarpara. At another public meeting in Lohardaga in neighbouring Jharkhand, the prime minister targeted Gandhi.
Mamata accuses Modi of buying votes with black money
Mamata Banerjee accused Prime Minister Narendra Modi of converting huge black money into white through demonitisation and spending it to purchase votes. She alleged that the saffron party is importing guns and goons to ensure votes in its favour and said that such a situation will not be allowed to develop in Bengal. "Modi Babu you may forcibly impose notebandi (demonetisation) on people to convert black money into white and spend them during elections to purchase votes, but you can never purchase voters in Bengal," Banerjee said at a public meeting at Serampore in Hooghly district in support of Trinamool Congress candidates.
WATCH FULL VIDEO:
(With PTI inputs)