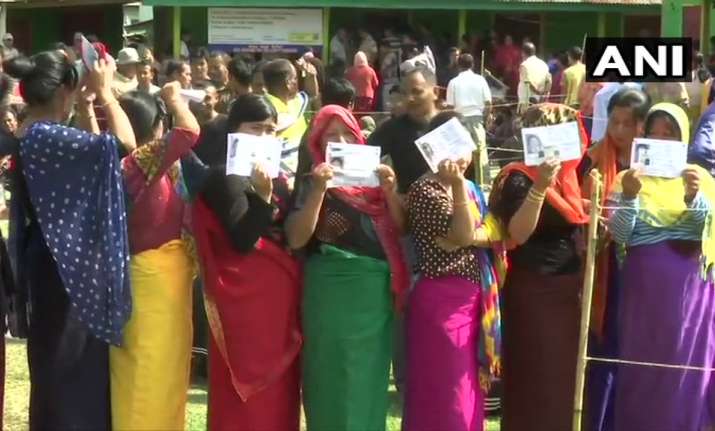 Polling for the first phase of Lok Sabha elections 2019 commenced on Thursday. The faith of many political bigwigs like Mahesh Sharma, VK Singh, Nitin Gadkari, Asaduddin Owaisi​, Chirag Paswan, Ajit Singh and Jayant Chaudhary will be decided today.
In 91 constituencies across India, over 14.21 crore voters will decide the fate of 1,279 candidates in this phase. In terms of the number of Lok Sabha seats, the first phase is third biggest among the seven phases in which the election will be conducted. More than 1.70 lakh polling booths are set up across 20 states and Union Territories. Since morning leaders from different political parties have started visiting their respective constituencies for casting their votes. 
Here is a list of the political stalwarts who have voted so far | Live updates
Mohammad Azharuddin--Former cricketer and Telangana Pradesh Congress Committee (TPCC) working president, Mohammad Azharuddin, casted his vote at polling booth number 71, in Hyderabad.
Renuka Choudhary--Khammam Congress candidate Renuka Choudhary casted her vote.
She said, "I am hopeful that we will be able to win this race, I am very optimistic." 
Sarbananda Sonowal--Assam Chief Minister Sarbananda Sonowal casted his vote at a polling station in Dibrugarh
Nitin Gadkari--Union Minister Nitin Gadkari casted his vote at polling booth number 220 in Nagpur parliamentary constituency.
Asaduddin Owaisi--AIMIM chief and Hyderabad MP candidate Asaduddin Owaisi casted his vote at a polling booth in the city. He is a three time sitting MP from the constituency.
Trivendra Singh Rawat--Chief Minister of Uttarakhand Trivendra Singh Rawat casted his vote at polling booth number 124 in Defence Colony, Dehradun for Lok Sabha Elections 2019.
Sanjiv Balyan--Union Minister and Muzaffarnagar BJP candidate Dr. Sanjiv Balyan casted his vote. 
"Faces of women in burkhas are not being checked and I allege that fake voting is being done. If not looked into, I will demand a repoll," ANI quoted him as saying. 
Ramesh Pokhriyal Nishank--Former CM of Uttarakhand Ramesh Pokhriyal Nishank casted his vote at a polling booth in Dehradun.
Harish Rawat--Former Chief Minister of Uttarakhand, Harish Rawat voted for the Lok Sabha Elections 2019 in Devalchaur, Haldwani. Voting on 2 parliamentary constituencies in the state is being held today.
Bhaiyyaji Joshi--Rashtriya Swayamsevak Sangh (RSS) general secretary Bhaiyyaji Joshi casted his vote at a polling booth at Bhauji Daftari School in Mahal area.
Mohan Bhagwat--Rashtriya Swayamsevak Sangh​ (RSS) chief Mohan Bhagwat voted on Thursday morning. 
"Voting is our duty, everyone should vote. It is in the national interest," said Bhagwat, after casting his vote for the Nagpur parliamentary constituency in the Lok Sabha Elections2019.
[ALSO READ] Lok Sabha Election 2019 Voting Live Updates: Naxals trigger IED blast in Chhattisgarh's Narayanpur amid polling; no injuries reported
WATCH VIDEO: