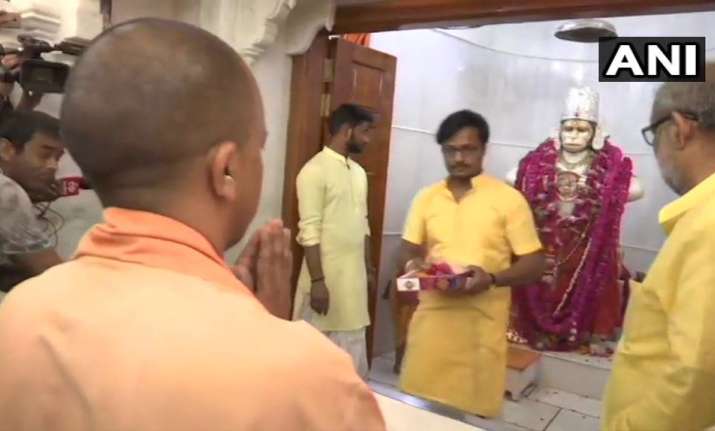 A day after the Election Commission of India (ECI) slapped a 72-hour campaigning ban on Uttar Pradesh Chief Minister Yogi Adityanath, the Bharatiya Janata Party's (BJP) firebrand leader began his day on Tuesday by offering prayers at Hanuman Setu temple in Lucknow, the state capital.
He also recited Hanuman Chalisa. 
In its order on Adityanath, the ECI on Monday said it "strongly condemns" the impugned statement made by the UP chief minister and "censured" him for "misconduct". The ban started from 6 am, Tuesday.
According to the ECI officials, reported PTI, this is the first time an all-India ban has been imposed on politicians to campaign in elections and also it is for the first time such a restriction has been put against a chief minister.
By the time the ban will be over on the UP CM, the country would have already witnessed the second phase of polling (on April 18) for the Lok Sabha elections 2019.
The general elections are scheduled to be held in seven phases from 11 April to 19 May 2019 to constitute the 17th Lok Sabha. The counting of votes will be conducted on 23 May, and on the same day the results will be declared.
Legislative Assembly elections in the states of Andhra Pradesh, Arunachal Pradesh, Odisha and Sikkim will be held simultaneously with the general election.
WATCH VIDEO: