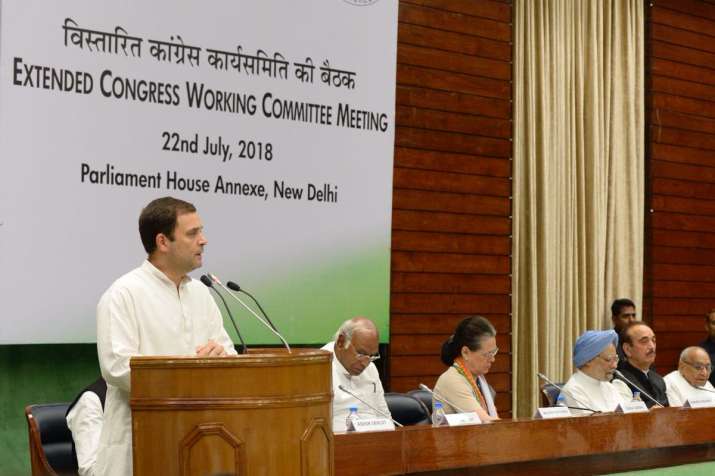 The extended Congress Working Committee today authorised Congress President Rahul Gandhi to take decisions on the pre and post-alliances with like-minded parties for the 2019 Lok Sabha election to take on the BJP.
The decision was taken at a meeting of the newly-constituted Congress Working Committee (CWC), Pradesh Congress Committee chiefs and Congress Legislature Party (CLP) members from various states.
The party also authorised Gandhi to constitute a committee to work out alliances with various national and regional parties to form a grand national alliance.
Thirty-five to 40 leaders spoke at today's meeting where they all stressed that the Congress should play a lead role in forging an anti-BJP front.
Also read | Sonia Gandhi attacks Modi govt, says 'dangerous regime compromising with India's democracy'
Some leaders said Gandhi being the leader of the principle opposition party should be the face of the national alliance.
Asked about party leaders wanting Gandhi to be the face of the alliance, senior Congress leader Ambika Soni said, "Naturally, he is the leader of the main national (opposition) party and we would want our leader to be the face of the opposition alliance."
Senior party leader and former finance minister P Chidambaram gave a detailed presentation on how the party could be strengthened with the help of allies in various states.
Sources said that Chidambaram highlighted that the Congress is strong in 12 states and with the help of its allies, it can forge a formidable front for the next general election.
The Congress president also reprimanded party leaders for making controversial statements in public forums and said that he will not hestitate to take action against anyone who makes 'wrong statements'. 
"I am fighting bigger fights. Everyone has the right to speak in party forum but if a party leader gives a wrong statement and weakens this fight, I will not hesitate to take an action," he told CWC.
Also read | ​Rahul Gandhi miffed at Shashi Tharoor? Warns party leaders against making 'incorrect statements'
Watch video: